MPW52 Wheel Drive
MobilePower™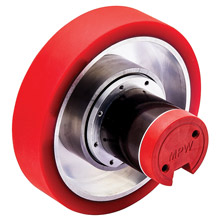 Summary Details
Size: 52mm brushless DC gear motor, 150mm wheel
Peak Torque: 12.4 Nm (109.75 lb.in)
Maximum Load: 68 Kg (150 lbs.) per wheel
Rated Speed: 2.4 meters/second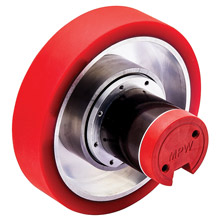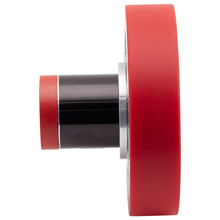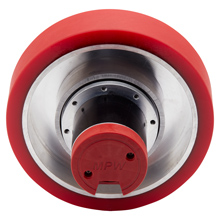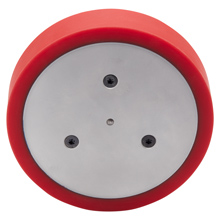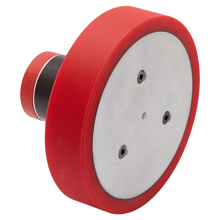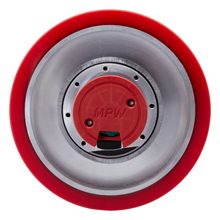 Buy Now
Introducing ElectroCraft's new MobilePower™ MPW52 wheel drive, featuring a high torque-density brushless DC motor with integrated single-stage planetary gearbox and wheel assembly.
ElectroCraft's MPW52 integrates a 14-pole Brushless DC motor with a heavy-duty, single-stage planetary gearbox mounted inside the hub of an aluminum wheel with polyurethane tread. Designed for mobile platform traction systems with optional encoder feedback to support positioning capability and electromagnetic brake to hold position when power is removed. The MPW52 combines optimum performance with high-efficiency, quiet operation and long life.
ElectroCraft MobilePower™ MPW series wheel drives feature an integrated design that provides increased performance and reliability at an affordable price compared to traditional motor/gearbox/wheel combinations. As with all ElectroCraft products, the MPW series wheel drives are customizable to meet specific application requirements.
For a complete solution, the MPW52 is compatible with ElectroCraft's Universal and PRO Series drives.
Features:
Smooth, efficient motion
Compact, lightweight, durable and highly reliable integrated design
Powerful starting torque:

Peak torque up to 12.4 Nm
Continuous torque up to 6.1 Nm

Configurable or completely customizable designs

Motor, gearbox, wheel, brake, encoder, cabling

Typical applications:

Automated Guided Vehicles
Autonomous Mobile Robots

Additional Product Details
MPW52 Outline Drawing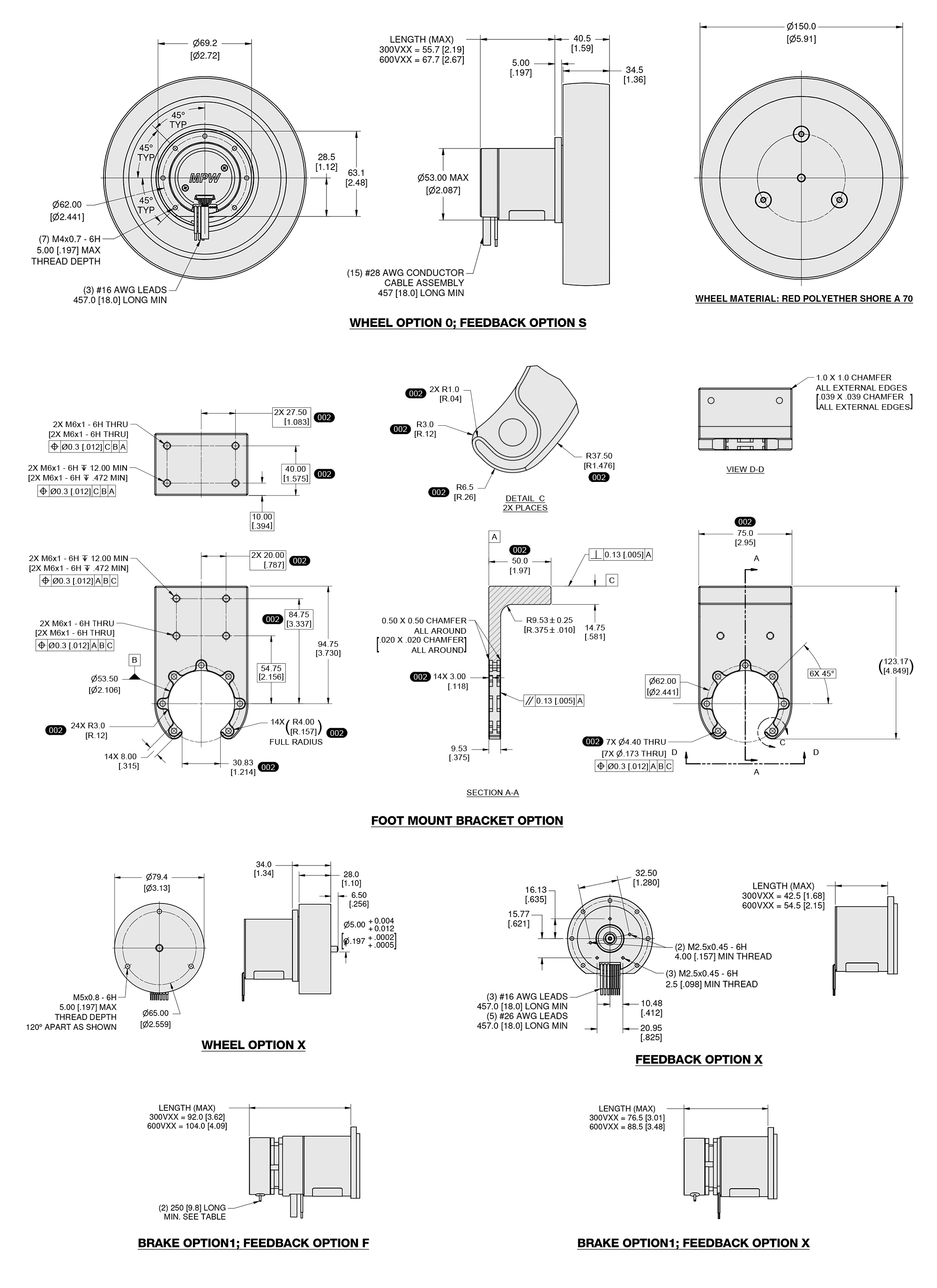 MPW52 Mechanical / Winding Data
MPW52 Wheel Drive
Motor Stack Size & Winding Models
Specifications
MPW52-300V24
MPW52-300V48
MPW52-600V24
MPW52-600V48
Design Voltage (VDC)
24
48
24
48
Gear Ratio
9.00:1
Peak Torque (lb-in)
60.2
109.75
Peak Torque (Nm)
6.8
12.4
Peak Current (Amps)
17.4
8.6
26.5
12.9
Peak Power (Watts)
80
170
Continuous Stall Torque* (lb-in)
30.1
54.0
Continuous Stall Torque* (Nm)
3.4
6.1
Continuous Stall Current (Amps)
6.4
3.4
11.4
5.6
Continuous Torque at Rated Speed* (lb-in)
23.0
39.8
Continuous Torque at Rated Speed* (Nm)
2.6
4.5
Continuous Current at Rated Speed (Amps)
5.0
2.5
8.4
4.2
Continuous Power at Rated Speed (Watts)
75
143
Continuous Rated Wheel Speed (RPM)
278
300
Continuous Rated Wheel Speed (Meters/Sec)
2.2
2.4
Continuous Rated Wheel Speed (Feet/Sec)
7.2
7.7
Continuous Rated Wheel Speed (KPH)
7.9
8.5
Continuous Rated Wheel Speed (MPH)
4.9
5.3
Standard Wheel Diameter (mm)
150
Wheel Type / Hardness
Aluminum Hub with PTMEG POLYETHER Shore A 70 (Red)
Maximum Axial Load (Kg)
22.7
Maximum Axial Load (lbs)
50
Maximum Radial Load (Kg)
68.0
Maximum Radial Load (lbs)
150
Peak Acceleration at Full Radial Load (m/s²)
2.7
5.0
Peak Efficiency (%)
75.0
80.0
Backlash (degrees)
<1 deg
Service Life (hours)
20,000
Gear Motor Voltage Constant (V / kRPM)
98.4
196.9
103.6
207.2
Gear Motor Torque Constant (oz-in / Amp)
72.9
145.8
76.8
153.5
Gear Motor Torque Constant (Nm / Amp)
0.51
1.03
0.54
1.08
Motor Winding Resistance (Ohms)
0.74
2.66
0.28
1.16
Motor Winding Inductance (mH)
0.70
2.80
0.33
1.32
Motor Constant (oz-in / √ Watt)
9.4
9.9
16.1
16.1
Motor Constant (mNm / √ Watt)
66.3
70.2
113.6
113.6
Motor Electrical Constant (msec)
0.9
1.1
1.2
1.1
Motor Mechanical Constant (msec)
1.70
1.11
Motor Thermal Time Constant (sec)
1,200.0
1,240.0
Motor Rotor inertia (oz-in²)
0.3390
0.5631
Motor Rotor inertia (g-cm²)
62.0
103.0
Motor Thermal Resistance (C / Watt)
2.79
2.32
Number of Motor Poles
14.0
Total Weight - no wheel (lb)
2.8
3.1
Total Weight - no wheel (Kg)
1.25
1.41
Total Length - w/out encoder & brake (inch)
3.3
3.7
Total Length - w/out encoder & brake (mm)
83
95
Storage Temperature
-40C to 60C
Certifications
CE, RoHS
Notes:
*Continuous rating based on a 25°C ambient temperature, winding temperature rise of 125°C. Mounted on a 150 X 150 X 6 mm aluminum heat sink.
MPW52 Speed / Torque Curves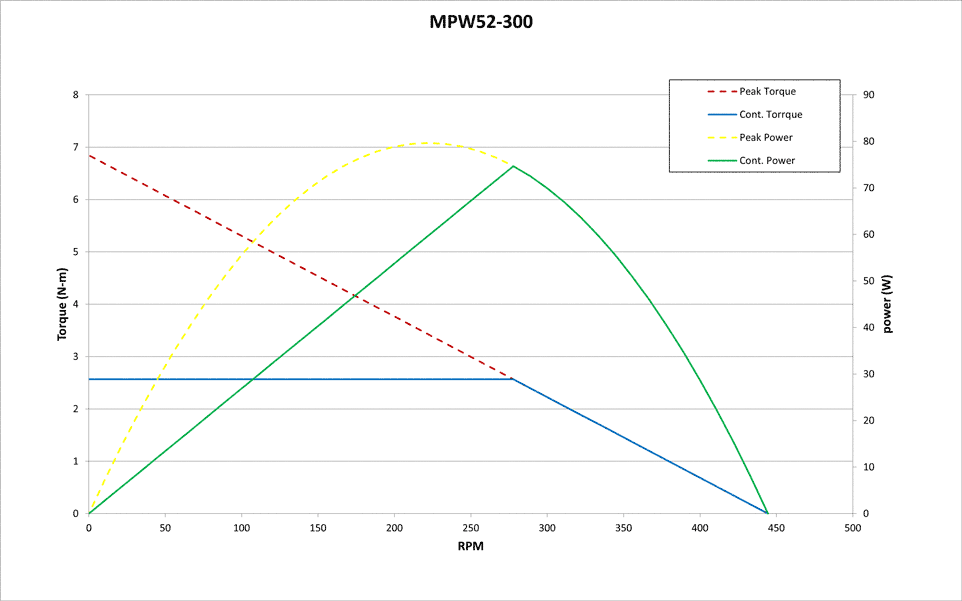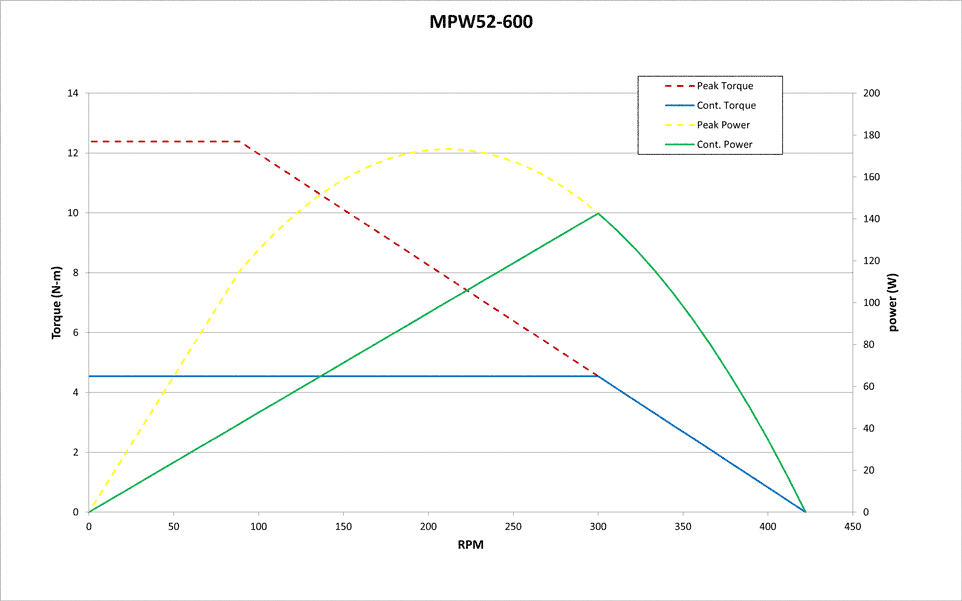 MPW52 Connection
ROTATION: CCW FACING LEAD END
SENSOR OUTPUT
S1
S2
S3
0
0
1
0
1
1
0
1
0
1
1
0
1
0
0
1
0
1
DRIVER OUTPUT
Ø A
Ø B
Ø C
X
HI
LOW
HI
X
LOW
HI
LOW
X
X
LOW
HI
LOW
X
HI
LOW
HI
X

HALL PINOUTS (5) #26 AWG LEAD
COLOR
FUNCTION
ORG
+4.5-24 VDC
BLK
GROUND
YEL
S1
GRY
S2
GRN
S3
BRAKE (2) #22 AWG
COLOR
FUNCTION
BLACK
24VDC
BLACK
GROUND
* See drawing #113-0000061
ENCODER PINOUTS (15) #28 AWG LEADS
COLOR
FUNCTION
YELLOW
A
YEL/WHT
A-
BLUE
B
BLU/WHT
B-
ORANGE
INDEX
ORG/WHT
INDEX-
GREEN
S1
GRN/WHT
S1-
BROWN
S2
BRN/WHT
S2-
WHITE
S3
GRY/WHT
S3-
RED
+5VDC
BLACK
GROUND
GRAY
NC
MPW52 CAD
ElectroCraft Rapid Delivery Program
Some versions of this product are available via ElectroCraft's Rapid Delivery Program. Lead times for these products are given in working days and stated below. Please note, these lead times may be exceeded during holiday periods or due to unforeseen circumstances. Always contact your local ElectroCraft representative for confirmation of availability.
Rapid delivery products are stocked in locations all over the World. If the product you require is not stocked in your region, you may request accelerated delivery from other areas. Please consult your local representative for more information.
Customers are responsible for all freight charges.
Rapid Delivery to:
Select the region where the product would be delivered to.
| Part Number | Description | Add to Cart |
| --- | --- | --- |
| MPW52-600V24-0000-S009 | 52mm Brushless DC Gear Motor/Wheel Drive, 24VDC, 9:1 ratio, 12 Nm peak torque, 4 Nm continuous torque at 330RPM rated speed, 150mm wheel, 2048 line differential commutating optical encoder, no brake | Buy Now |
| MPW52-600V48-0000-S009 | 52mm Brushless DC Gear Motor/Wheel Drive, 48VDC, 9:1 ratio, 12 Nm peak torque, 4 Nm continuous torque at 330RPM rated speed, 150mm wheel, 2048 line differential commutating optical encoder, no brake | Contact Sales |
| MPW52-600V24-1000-S009 | 52mm Brushless DC Gear Motor/Wheel Drive, 24VDC, 9:1 ratio, 12 Nm peak torque, 4 Nm continuous torque at 330RPM rated speed, 150mm wheel, 2048 line differential commutating optical encoder, with brake | Buy Now |
| MPW52-600V48-1000-S009 | 52mm Brushless DC Gear Motor/Wheel Drive, 48VDC, 9:1 ratio, 12 Nm peak torque, 4 Nm continuous torque at 330RPM rated speed, 150mm wheel, 2048 line differential commutating optical encoder, with brake | Buy Now |
Europe, the Middle East and Africa
| Part Number | Description | Typical Lead Time |
| --- | --- | --- |
| MPW52-600V24-0000-S009 | 52mm Brushless DC Gear Motor/Wheel Drive, 24VDC, 9:1 ratio, 12 Nm peak torque, 4 Nm continuous torque at 330RPM rated speed, 150mm wheel, 2048 line differential commutating optical encoder, no brake | 2 days |
| MPW52-600V48-0000-S009 | 52mm Brushless DC Gear Motor/Wheel Drive, 48VDC, 9:1 ratio, 12 Nm peak torque, 4 Nm continuous torque at 330RPM rated speed, 150mm wheel, 2048 line differential commutating optical encoder, no brake | 2 days |
| MPW52-600V24-1000-S009 | 52mm Brushless DC Gear Motor/Wheel Drive, 24VDC, 9:1 ratio, 12 Nm peak torque, 4 Nm continuous torque at 330RPM rated speed, 150mm wheel, 2048 line differential commutating optical encoder, with brake | 2 days |
| MPW52-600V48-1000-S009 | 52mm Brushless DC Gear Motor/Wheel Drive, 48VDC, 9:1 ratio, 12 Nm peak torque, 4 Nm continuous torque at 330RPM rated speed, 150mm wheel, 2048 line differential commutating optical encoder, with brake | 2 days |
Asia
| Part Number | Description | Typical Lead Time |
| --- | --- | --- |
| MPW52-600V24-0000-S009 | 52mm Brushless DC Gear Motor/Wheel Drive, 24VDC, 9:1 ratio, 12 Nm peak torque, 4 Nm continuous torque at 330RPM rated speed, 150mm wheel, 2048 line differential commutating optical encoder, no brake | 2 days |
| MPW52-600V48-0000-S009 | 52mm Brushless DC Gear Motor/Wheel Drive, 48VDC, 9:1 ratio, 12 Nm peak torque, 4 Nm continuous torque at 330RPM rated speed, 150mm wheel, 2048 line differential commutating optical encoder, no brake | 2 days |
| MPW52-600V24-1000-S009 | 52mm Brushless DC Gear Motor/Wheel Drive, 24VDC, 9:1 ratio, 12 Nm peak torque, 4 Nm continuous torque at 330RPM rated speed, 150mm wheel, 2048 line differential commutating optical encoder, with brake | 2 days |
| MPW52-600V48-1000-S009 | 52mm Brushless DC Gear Motor/Wheel Drive, 48VDC, 9:1 ratio, 12 Nm peak torque, 4 Nm continuous torque at 330RPM rated speed, 150mm wheel, 2048 line differential commutating optical encoder, with brake | 2 days |