MPS32 Right-Angle Gearmotor
MobilePower™ Series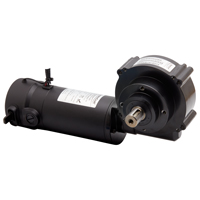 Summary Details
Peak Torque: 113.66 Nm (1006 lb.in)

ElectroCraft's MPS32 integrates a 2-pole PMDC brush motor with a single-stage right-angle worm gearbox, designed for medical or general mobility applications. The MPS32 is a unique design that delivers high torque and increased efficiency, while providing smooth, reliable and quiet operation.
ElectroCraft MobilePower™ gearmotors feature an integrated design that provides increased performance and reliability at an affordable price compared to traditional motor/gearbox combinations. As with all ElectroCraft products, MobilePower™ gearmotors are customizable to meet specific application requirements.
Features
Smooth, efficient motion
Durable and highly reliable integrated worm-gear design

Suitable for uneven terrain and curb-climbing

High starting torque:

Peak starting torque up to 113.7Nm
15-minute continuous torque up to 39.2Nm
Continuous torque up to 20.3Nm

Configurable or completely customizable designs

Motor, gearbox, brake, encoder, cabling

Typical applications:

Medical Mobility Chairs
Stair Lifts
Industrial traction applications
Industrial lifts
Automated Guided Vehicles
Autonomous Mobile Robots

Additional Product Details
MPS32 Outline Drawing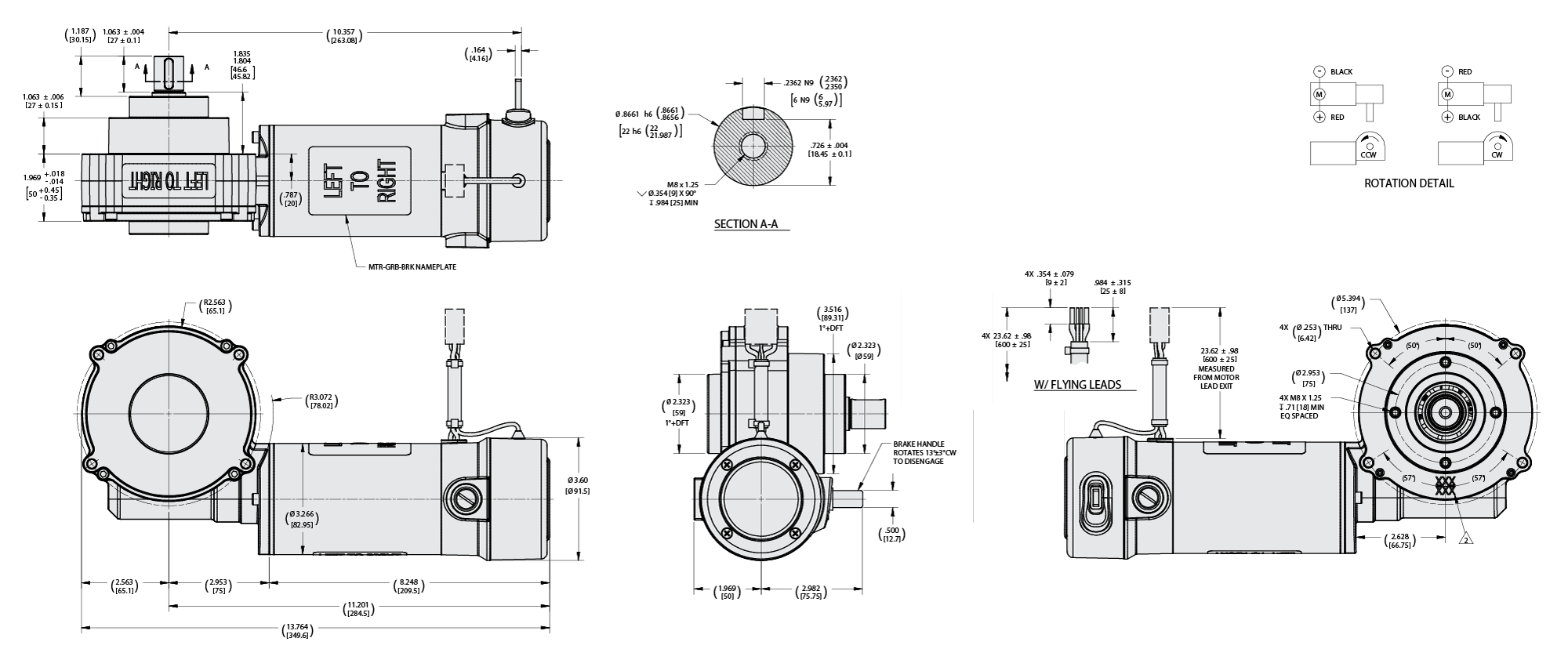 MPS32 Motor Parameters
Winding/speed
183
150
124
Gear Ratio
29.00:1
Operational Voltage (Volts DC)
24
Motor Poles
2
Nominal Back EMF Constant (V/KRPM)
4.44
5.53
6.63
Nominal Torque Constant (Nm/A)
0.0424
0.0528
0.0633
Nominal No-Load Speed at 24 VDC (RPM)
183
150
124
Nominal MTR-GRB-BRK Mass (kg)
6.69
Nominal Motor Armature Inertia (kg-cm²)
12.70
Nominal Winding Resistance (Ohms)
0.136
0.141
0.182
Nominal Winding Inductance (μH)
94
144
197
Max Winding Temp (°C)
155
Max Operating Temperature On Gearbox/Motor Housing (°C)
95
Max Input Current (A)
80
S1 Input Current (A)
16.0
S1 Output Torque (Nm)
12.20
16.27
20.34
S1 Output Power (W)
220
235
235
S2-15 Min Input Current (A)
28.0
S2-15 Min Output Torque (Nm)
25.08
32.20
39.21
S2-15 Min Output Power (W)
430
435
420
Nominal Peak Output Torque (Nm)
79.77
96.60
113.66
Nominal Peak Output Power (W)
1050
940
790
Continuous rating based on nominal operating voltage 24 VDC.
MPS32 Speed / Torque Curves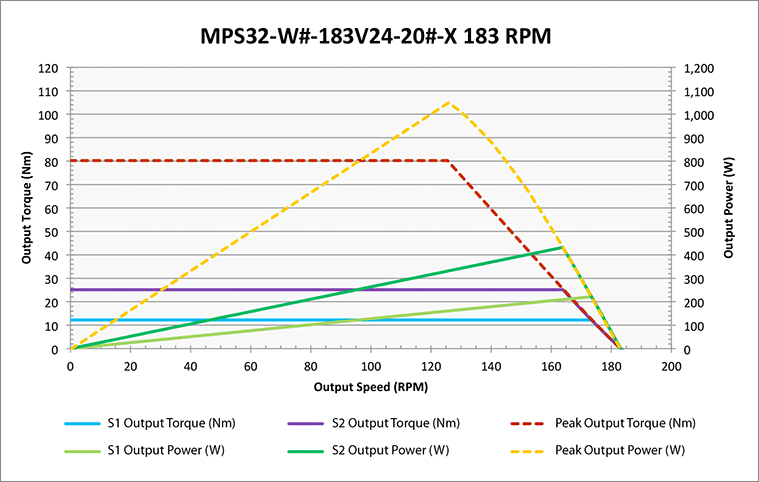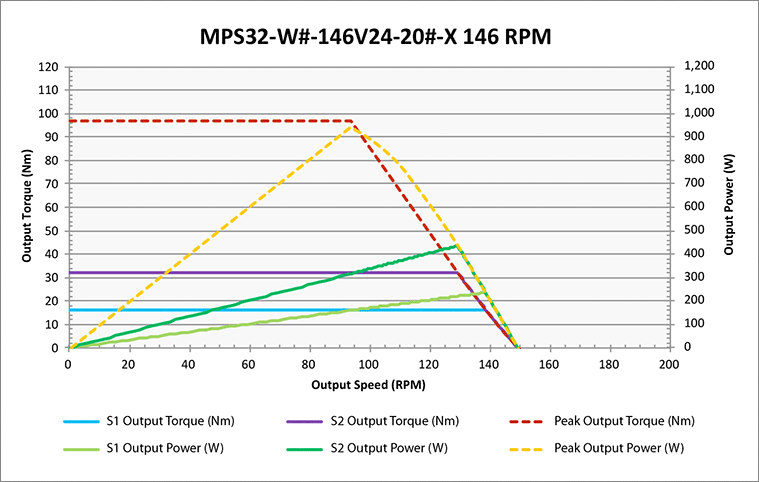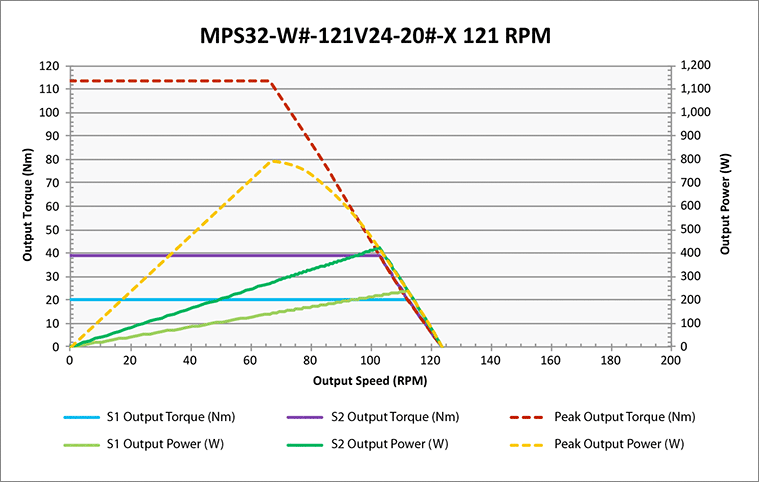 ElectroCraft Rapid Delivery Program
Some versions of this product are available via ElectroCraft's Rapid Delivery Program. Lead times for these products are given in working days and stated below. Please note, these lead times may be exceeded during holiday periods or due to unforeseen circumstances. Always contact your local ElectroCraft representative for confirmation of availability.
Rapid delivery products are stocked in locations all over the World. If the product you require is not stocked in your region, you may request accelerated delivery from other areas. Please consult your local representative for more information.
Customers are responsible for all freight charges.
Rapid Delivery to:
Select the region where the product would be delivered to.
The Americas
| Part Number | Description | Typical Lead Time |
| --- | --- | --- |
| MPS32-WL-146V24-200- X | | 70 days |
| MPS32-WL-183V24-200- X | | 70 days |
| MPS32-WR-146V24-200-X | | 70 days |
| MPS32-WR-183V24-200-X | | 70 days |
Europe, the Middle East and Africa
Part Number
Description
Typical Lead Time
No products available
Asia
| Part Number | Description | Typical Lead Time |
| --- | --- | --- |
| MPS32-WL-146V24-200- X | | 30 days |
| MPS32-WL-183V24-200- X | | 30 days |
| MPS32-WR-146V24-200-X | | 30 days |
| MPS32-WR-183V24-200-X | | 30 days |