MPS32 Geared Motor
MobilePower™ Series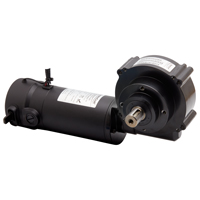 Summary Details
Peak Torque: 113.66 Nm (1006 lb.in)

ElectroCraft's MPS32 geared motor is part of our extensive range of purpose designed, fully customizable mobility motors.
This two pole motor has excellent performance and efficiency and is coupled with a high-efficiency single-stage gearbox, to deliver power smoothly, reliably and quietly. With high starting torque for curb-climbing and rough terrain use, the MPS32 is the ideal choice for a wide variety of mobility applications.
Features:
High energy efficiency.
High torque density with excellent torque per frame size performance.
High starting torque.
Extended battery life.
Very quiet and very reliable.
Controllable variable speed operation.
Available with a range of IP ratings.

Additional Product Details
MPS32 Outline Drawing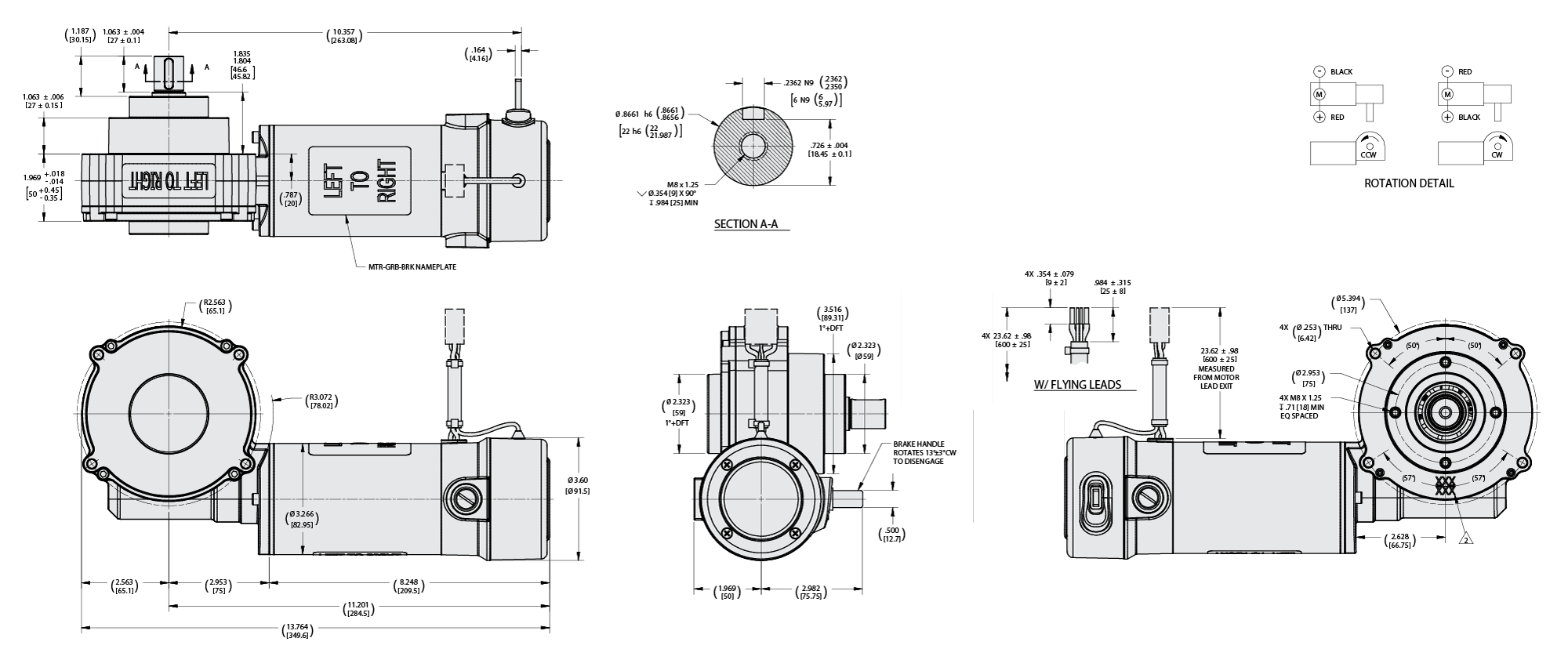 MPS32 Motor Parameters
Winding/speed
183
150
124
Gear Ratio
29.00:1
Operational Voltage (Volts DC)
24
Motor Poles
2
Nominal Back EMF Constant (V/KRPM)
4.44
5.53
6.63
Nominal Torque Constant (Nm/A)
0.0424
0.0528
0.0633
Nominal No-Load Speed at 24 VDC (RPM)
183
150
124
Nominal MTR-GRB-BRK Mass (kg)
6.69
Nominal Motor Armature Inertia (kg-cm²)
12.70
Nominal Winding Resistance (Ohms)
0.136
0.141
0.182
Nominal Winding Inductance (μH)
94
144
197
Max Winding Temp (°C)
155
Max Operating Temperature On Gearbox/Motor Housing (°C)
95
Max Input Current (A)
80
S1 Input Current (A)
16.0
S1 Output Torque (Nm)
12.20
16.27
20.34
S1 Output Power (W)
220
235
235
S2-15 Min Input Current (A)
28.0
S2-15 Min Output Torque (Nm)
25.08
32.20
39.21
S2-15 Min Output Power (W)
430
435
420
Nominal Peak Output Torque (Nm)
79.77
96.60
113.66
Nominal Peak Output Power (W)
1050
940
790
Continuous rating based on nominal operating voltage 24 VDC.
MPS32 Speed / Torque Curves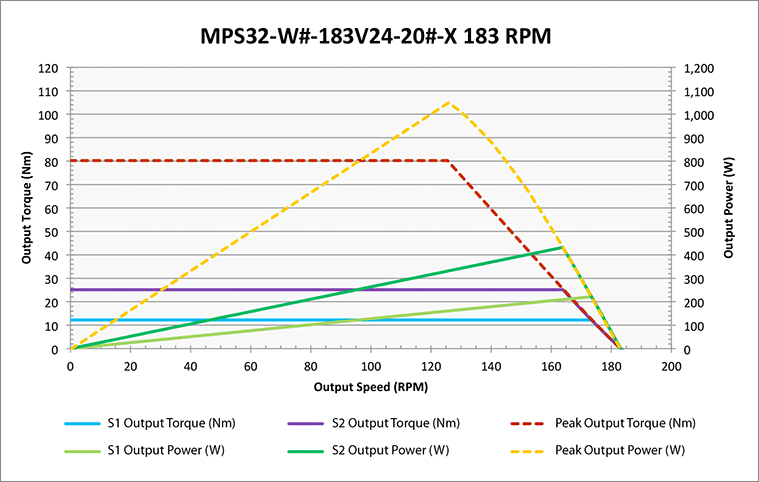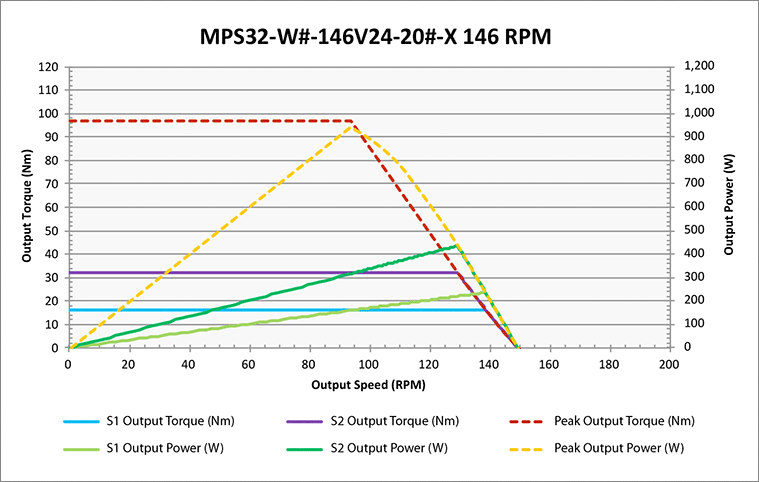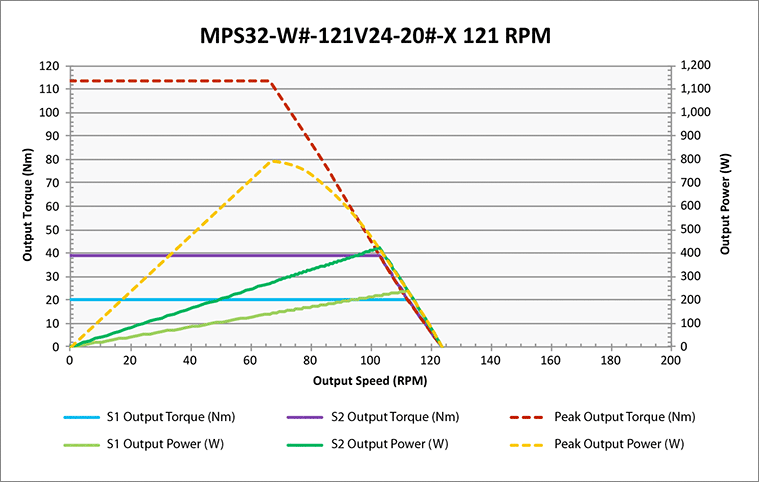 ElectroCraft Rapid Delivery Program
Some versions of this product are available via ElectroCraft's Rapid Delivery Program. Lead times for these products are given in working days and stated below. Please note, these lead times may be exceeded during holiday periods or due to unforeseen circumstances. Always contact your local ElectroCraft representative for confirmation of availability.
Rapid delivery products are stocked in locations all over the World. If the product you require is not stocked in your region, you may request accelerated delivery from other areas. Please consult your local representative for more information.
Customers are responsible for all freight charges.
Rapid Delivery to:
Select the region where the product would be delivered to.
The Americas
| Part Number | Description | Typical Lead Time |
| --- | --- | --- |
| MPS32-WL-146V24-200- X | | 70 days |
| MPS32-WL-183V24-200- X | | 70 days |
| MPS32-WR-146V24-200-X | | 70 days |
| MPS32-WR-183V24-200-X | | 70 days |
Europe, the Middle East and Africa
Part Number
Description
Typical Lead Time
No products available
Asia
| Part Number | Description | Typical Lead Time |
| --- | --- | --- |
| MPS32-WL-146V24-200- X | | 30 days |
| MPS32-WL-183V24-200- X | | 30 days |
| MPS32-WR-146V24-200-X | | 30 days |
| MPS32-WR-183V24-200-X | | 30 days |