APPS23 Stepper Linear Actuator
AxialPower™ Plus Series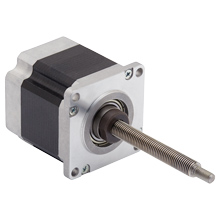 Summary Details
Technology: Stepper
Size: NEMA 23
Force: 512 N (115 lbs.) to 890 N (200 lbs.)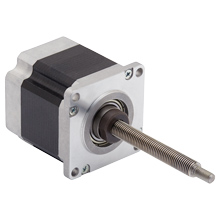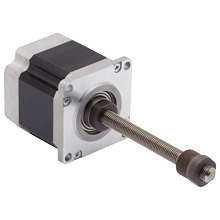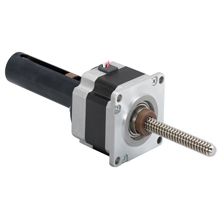 Buy Now
The APPS23 is a 56mm / NEMA 23 frame, hybrid stepper-based actuator. The APPS23 is available in standard or custom designs as a linear actuator (non-captive), leadscrew motor (external linear), or guided linear actuator (captive). A variety of resolutions are offered, ranging from 0.006 to 0.013 per step, with an output force of up to 890 N (200 lbs).
APPS23 Model Number Example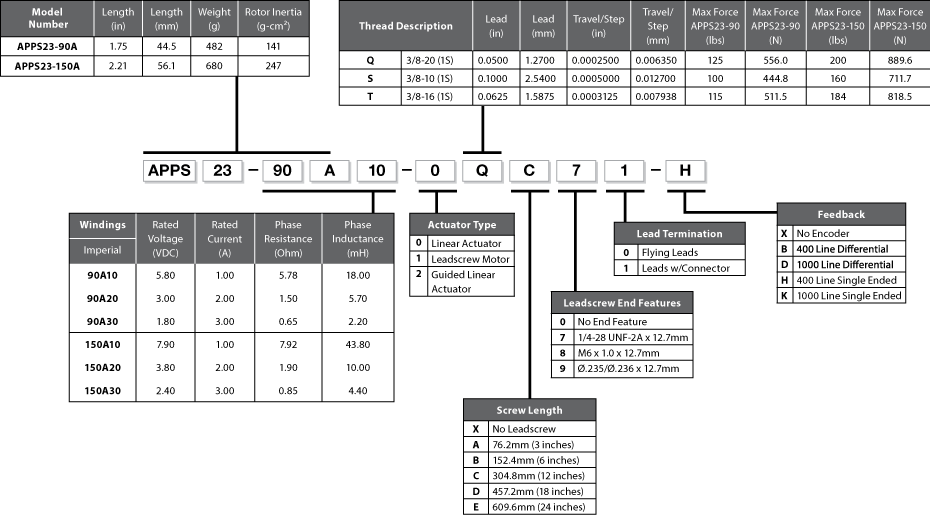 Additional Product Details
APPS23 Outline Drawing
Model
A
B
C
D
E
F
G
Pilot
Length
Pilot
Diameter
Mount Hole
Callout
Mount
Hole
Spacing
External
Flange
Dimension
External
Nut Thread
Screw End
Mod
APPS23-90
0.06 in
(1.5 mm)
1.500
±0.002 in
(38.1
±0.05 mm)
0.205
±0.01 in dia
(5.21
±0.25 mm dia)
1.86 in
(47 mm)
2.22 in
(56 mm)
M17 x 1.0
1/4-28 UNF
M6 x 1.0
0.235 / 0.236 in
dia Journal
(5.97 / 5.99 mm)
APPS23-150

APPS23 Speed / Force Curves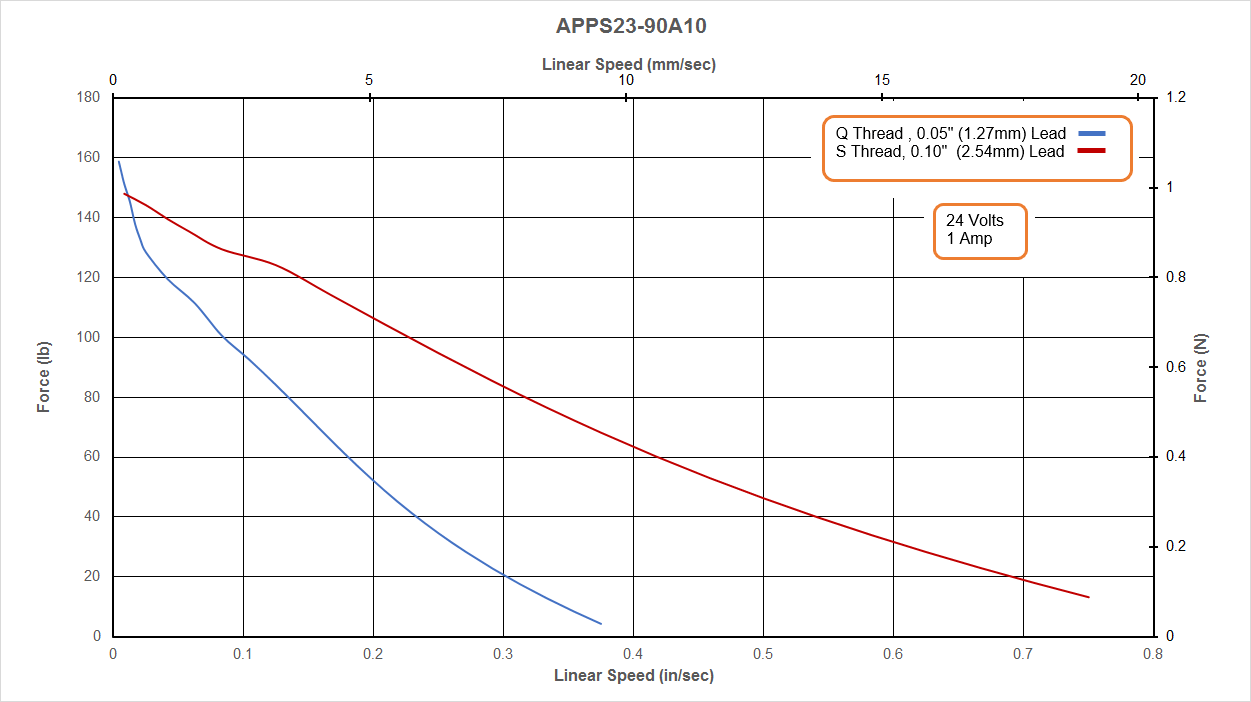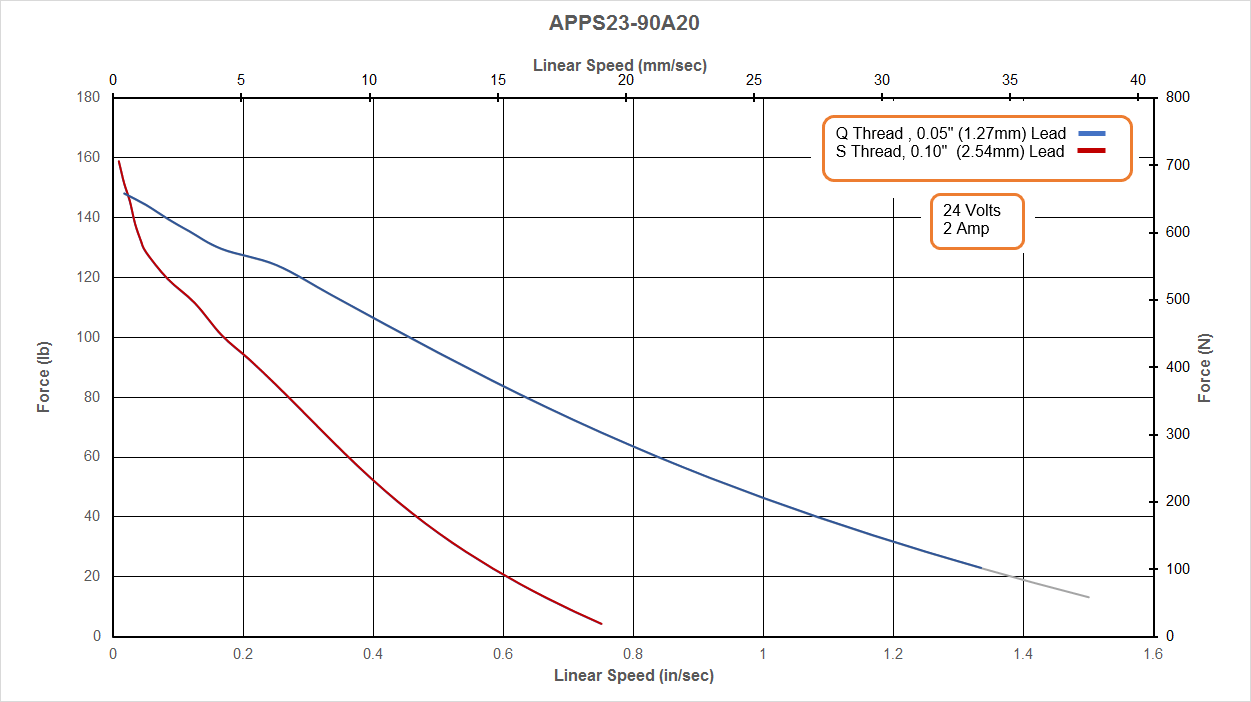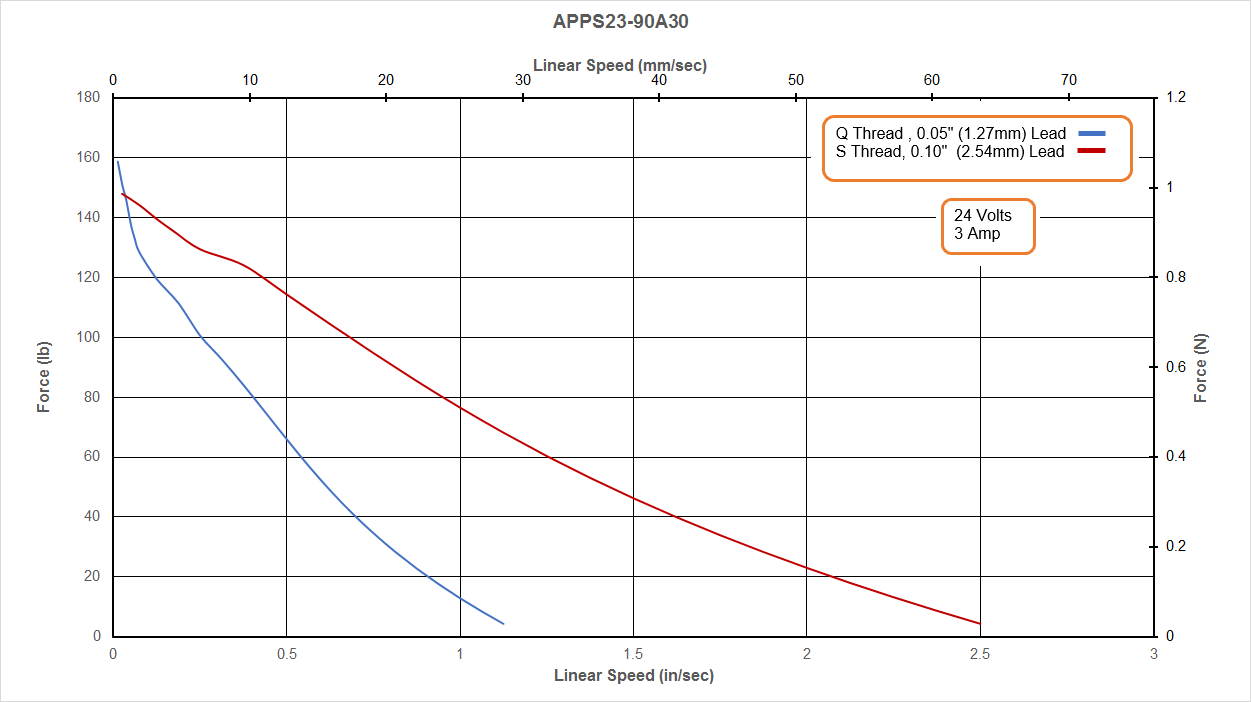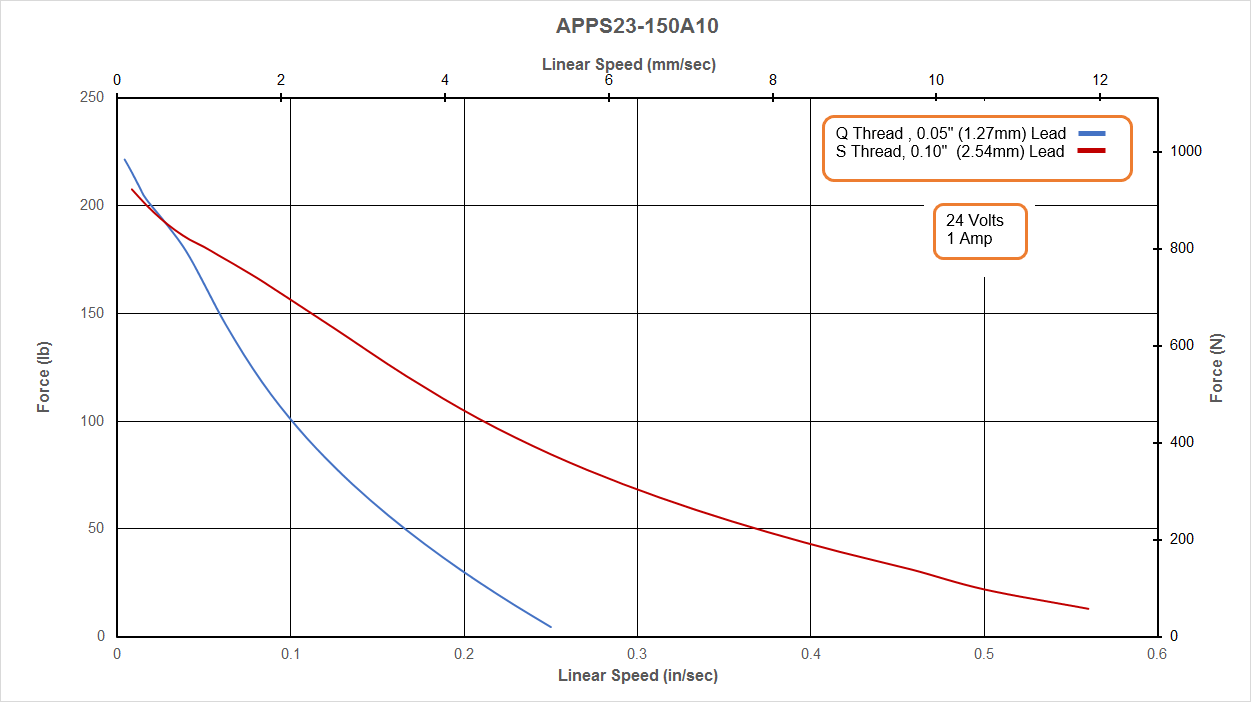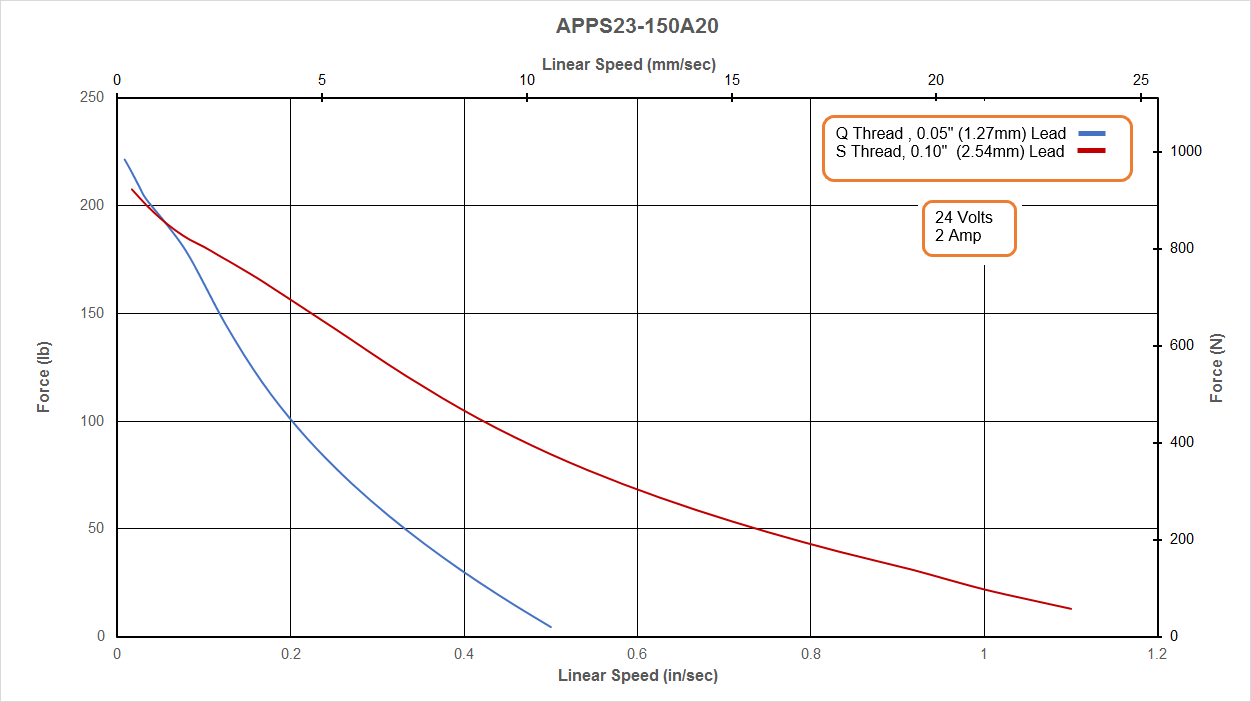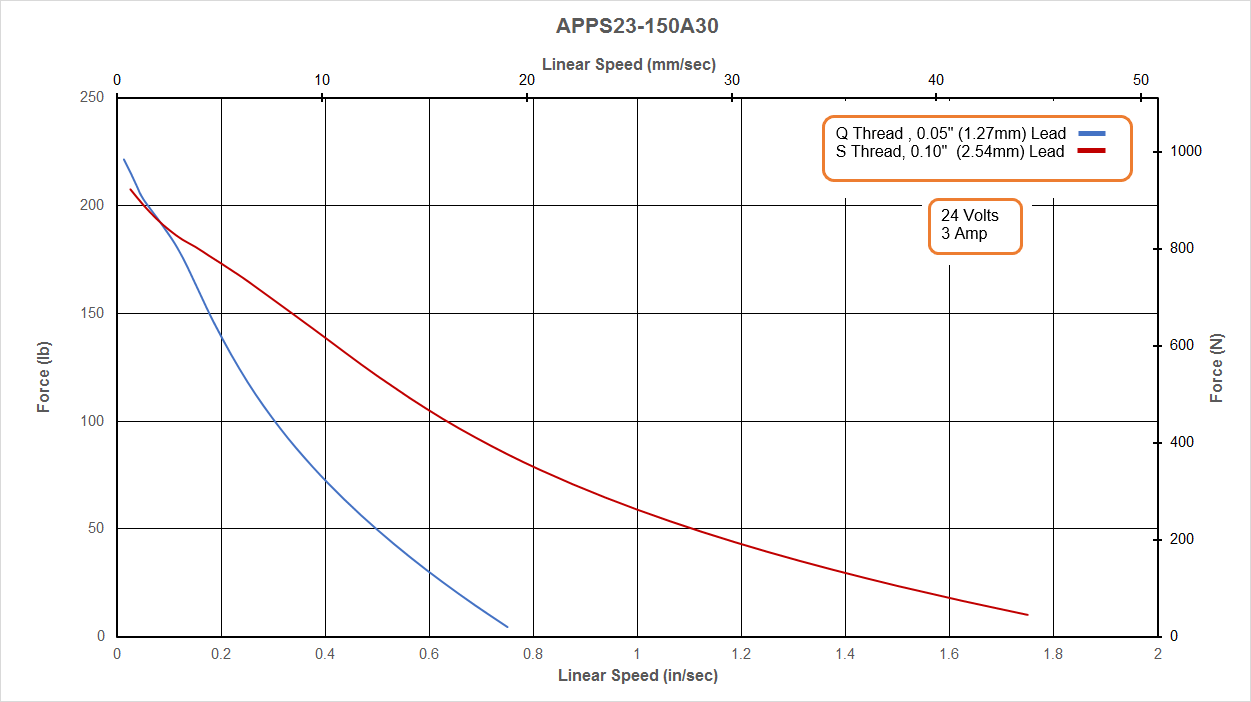 APPS23 Connection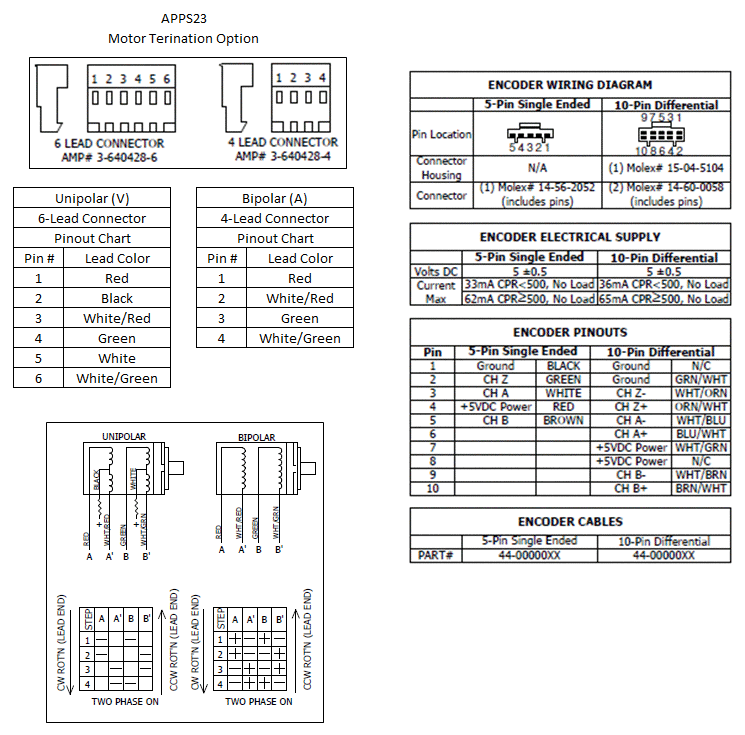 APPS23 CAD
ElectroCraft Rapid Delivery Program
Some versions of this product are available via ElectroCraft's Rapid Delivery Program. Lead times for these products are given in working days and stated below. Please note, these lead times may be exceeded during holiday periods or due to unforeseen circumstances. Always contact your local ElectroCraft representative for confirmation of availability.
Rapid delivery products are stocked in locations all over the World. If the product you require is not stocked in your region, you may request accelerated delivery from other areas. Please consult your local representative for more information.
Customers are responsible for all freight charges.
Rapid Delivery to:
Select the region where the product would be delivered to.
| Part Number | Description | Add to Cart |
| --- | --- | --- |
| APPS23-90A30-0QB70-X | NEMA 23 Stepper-based linear actuator, 1.8 degree step angle, bi-polar windings, 90 oz-in holding torque, 3.0A/Phase, 3/8"-20 ACME (1-start), 0.05" lead | Buy Now |
| APPS23-150A30-0QB70-X | NEMA 23 Stepper-based linear actuator, 1.8 degree step angle, bi-polar windings, 150 oz-in holding torque, 3.0A/Phase, 3/8"-20 ACME (1-start), 0.05" lead | Buy Now |
Europe, the Middle East and Africa
| Part Number | Description | Typical Lead Time |
| --- | --- | --- |
| APPS23-150A30-0QB80-X | NEMA 23 Stepper-based linear actuator, 1.8 degree step angle, bi-polar windings, 150 oz-in holding torque, 3.0A/Phase, 3/8"-20 ACME (1-start), 0.05" lead | 2 days |
| APPS23-150A30-1QB80-X | NEMA 23 Stepper-based lead screw motor, 1.8 degree step angle, bi-polar windings, 150 oz-in holding torque, 3.0A/Phase, 3/8"-20 ACME (1-start), 0.05" lead | 2 days |
| APPS23-150A30-1SB80-X | NEMA 23 Stepper-based lead screw motor, 1.8 degree step angle, bi-polar windings, 150 oz-in holding torque, 3.0A/Phase, 3/8"-10 ACME (1-start), 0.10" lead | 2 days |
| APPS23-90A30-0QB80-X | NEMA 23 Stepper-based linear actuator, 1.8 degree step angle, bi-polar windings, 90 oz-in holding torque, 3.0A/Phase, 3/8"-20 ACME (1-start), 0.05" lead | 2 days |
| APPS23-90A30-1QB80-X | NEMA 23 Stepper-based lead screw motor, 1.8 degree step angle, bi-polar windings, 90 oz-in holding torque, 3.0A/Phase, 3/8"-20 ACME (1-start), 0.05" lead | 2 days |
| APPS23-90A30-1SB80-X | NEMA 23 Stepper-based lead screw motor, 1.8 degree step angle, bi-polar windings, 90 oz-in holding torque, 3.0A/Phase, 3/8"-10 ACME (1-start), 0.10" lead | 2 days |
Asia
| Part Number | Description | Typical Lead Time |
| --- | --- | --- |
| APPS23-90A30-0QB70-X | NEMA 23 Stepper-based linear actuator, 1.8 degree step angle, bi-polar windings, 90 oz-in holding torque, 3.0A/Phase, 3/8"-20 ACME (1-start), 0.05" lead | 2 days |
| APPS23-150A30-0QB70-X | NEMA 23 Stepper-based linear actuator, 1.8 degree step angle, bi-polar windings, 150 oz-in holding torque, 3.0A/Phase, 3/8"-20 ACME (1-start), 0.05" lead | 2 days |