DPP720 Brush Motor
DirectPower™ Plus Series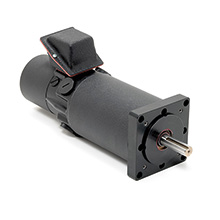 Summary Details
Size: 4.00-inch or 102mm
Peak Torque: to 2880 oz-in or 2034 Ncm
For a complete solution, the DPP720 is compatible with ElectroCraft's Universal and PRO Series drives.
High-Torque. Long life.
Our ElectroCraft DirectPower™ Plus 720 Series features a rugged, heavy-gauge steel housing construction for long-life and durability. This high-efficiency motor offers smooth and highly accurate performance across the operating speed range. It includes dynamically balanced armatures, sealed construction for reliability in most environments, sealed ball bearings, and replaceable brushes.

Additional Product Details
DPP720 Outline Drawing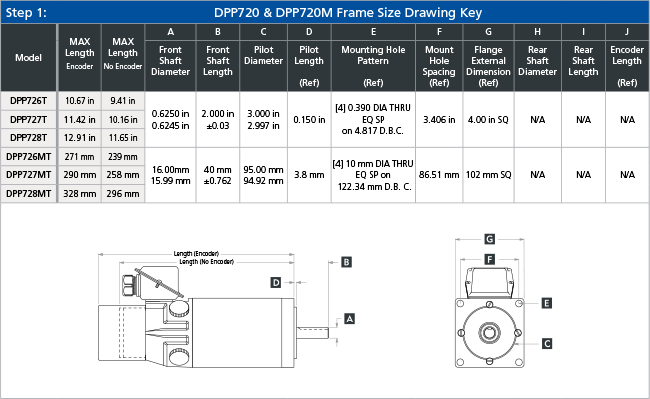 DPP720 Speed / Torque Curves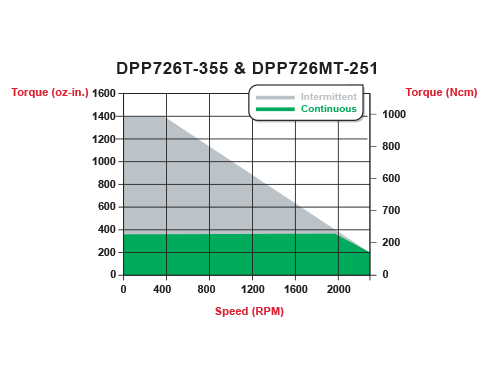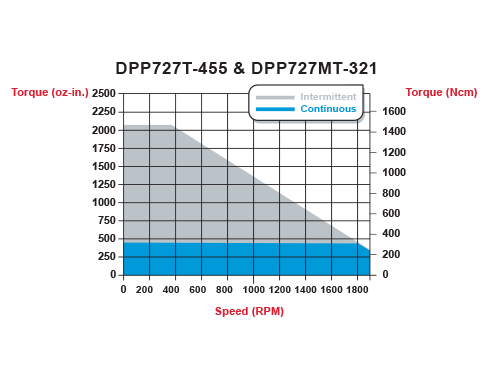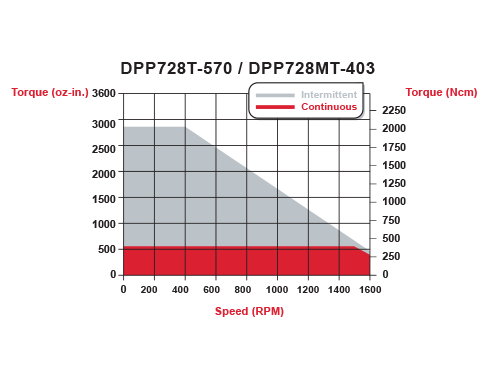 DPP720 Mechanical / Winding Data
DPP720 Stack/Torque Sizes
Imperial Models
DPP726T-355
DPP727T-455
DPP728T-570
Metric Models
DPP726MT-251
DPP727MT-321
DPP728MT-403
Continuous Stall Torque (oz-in)
355
455
570
Continuous Stall Torque (Ncm)
250.67
321.28
402.48
Peak Torque (oz-in)
1440
2080
2880
Peak Torque (Ncm)
1016.78
1468.69
2033.57
Rotor Inertia (oz-in-sec2)
0.1000
0.1100
0.1750
Rotor Inertia (g-cm2)
7062.0
7768.2
12358.5
Thermal Resistance (C / Watts)
1.4
1.3
1.1
Weight (lbs)
13.0
15.0
21.0
Weight (Kg)
5.9
6.8
9.53
Number of Poles
4
4
4
DPP720 Winding Options
Imperial Models
355V60
355V90
355V120
455V60
455V90
455V120
570V60
570V90
570V120
Metric Models
251V60
251V90
251V120
321V60
321V90
321V120
403V60
403V90
403V120
Design Voltage
(VDC)
60
90
120
60
90
120
60
90
120
Continuous Current
(Amps)
12
8
6
13
8
6
15
11
8
Peak Current
(Amps)
42
29
22
52
35
26
66
45
33
Voltage Constant
±10%
(VDC/kRPM)
25.2
36.3
49.0
29.4
44.1
58.8
32.4
47.2
64.9
Torque Constant
±10%
(oz-in / Amp)
34.2
49.2
66.2
39.8
59.6
79.5
43.8
63.8
87.8
Torque Constant
±10%
(Ncm / Amp)
24.151
34.743
46.747
28.105
42.087
56.139
30.930
45.053
62.000
Resistance
±10%
(Ohms)
0.72
1.31
2.04
0.64
1.21
1.89
0.54
0.9
1.55
Inductance
±10%
(mH)
1.5
3.2
5.8
1.4
3.1
5.5
1.1
2.3
4.3
Motor Constant
(oz-in / √ Watt)
40.32
42.99
46.39
49.82
54.25
57.78
59.74
67.21
70.58
Motor Constant
(Nm / √ Watt)
4.56
4.86
5.24
5.63
6.13
6.53
6.75
7.59
7.97
Electrical Constant
(msec)
2.14
2.43
2.83
2.16
2.57
2.91
1.99
2.52
2.78
Mechanical Constant
(msec)
8.71
7.66
6.58
6.39
5.39
4.75
6.98
5.52
5.00
DPP720 CAD