DPP700 Brush Motor
DirectPower™ Plus Series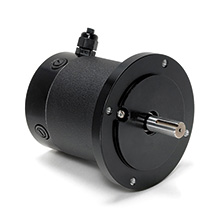 Summary Details
Size: 4.00 inches or 102mm
Peak Torque: to 2000 oz-in or 1412 Ncm
For a complete solution, the DPP700 is compatible with ElectroCraft's Universal and PRO Series drives.
High-Torque. Long life.
Our ElectroCraft DirectPower™ Plus 700 Series features a rugged, heavy-gauge steel housing construction for long-life and durability. This series offers high output for low to mid voltages, high torque applications. This high-efficiency motor includes dynamically balanced armatures, sealed ball bearings, and replaceable brushes.

Additional Product Details
DPP700 Outline Drawing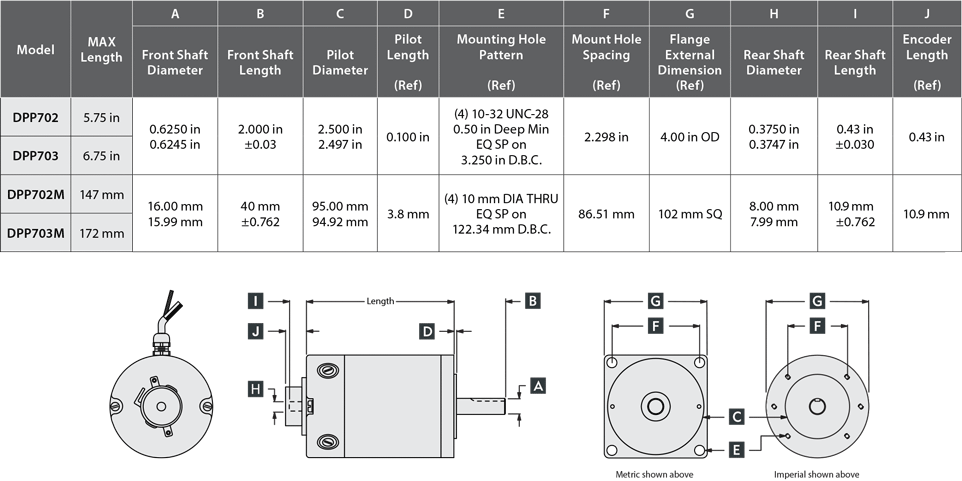 DPP700 Speed / Torque Curves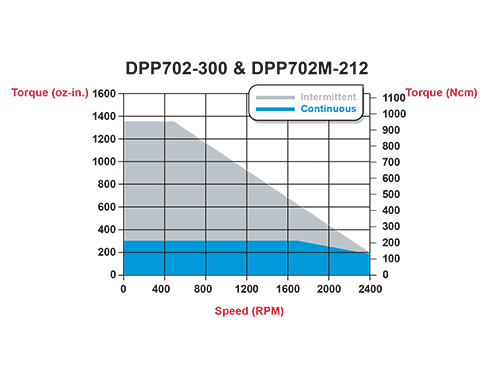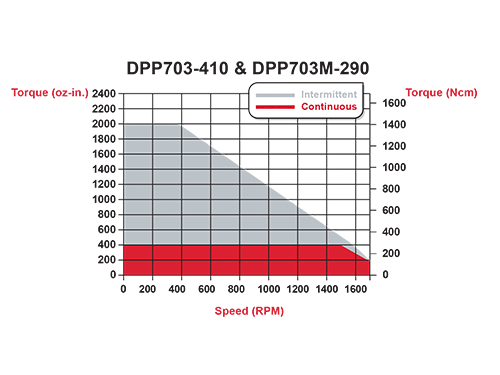 DPP700 Mechanical / Winding Data
Array Stack/Torque Sizes
Stack Size Models
DPP702-300
DPP703-410
Continuous Stall Torque (oz-in)
300
410
Continuous Stall Torque (Ncm)
211.83
289.50
Peak Torque (oz-in)
1350
2000
Peak Torque (Ncm)
953.24
1412.20
Rotor Inertia (oz-in-sec2)
0.1500
0.2000
Rotor Inertia (g-cm2)
10593.0
14124.0
Thermal Resistance (C / Watts)
1.6
1.3
Weight (lbs)
8.5
11.0
Weight (Kg)
3.9
4.99
Length (inches)
5.8
6.8
Length (cm)
14.7
17.3
Number of Poles
2
2
Array Winding Options
Winding Models
300V24
300V48
300V60
300V90
410V24
410V48
410V60
410V90
Design Voltage
(VDC)
24
48
60
90
24
48
60
90
Continuous Current
(Amps)
16
8
6
4
18
9
7
5
Peak Current
(Amps)
90
53
44
29
90
56
45
30
Voltage Constant
±10%
(VDC/kRPM)
9.1
18.7
23.0
34.4
13.7
26.5
32.9
49.3
Torque Constant
±10%
(oz-in / Amp)
12.3
25.3
31.1
46.6
18.5
35.8
44.4
66.7
Torque Constant
±10%
(Ncm / Amp)
8.686
17.866
21.961
32.907
13.064
25.280
31.353
47.101
Resistance
±10%
(Ohms)
0.24
0.52
0.71
1.34
0.25
0.56
0.79
1.51
Inductance
±10%
(mH)
0.4
1.8
2.7
6.1
0.7
2.4
3.7
8.4
Motor Constant
(oz-in / √ Watt)
25.11
35.23
36.76
40.16
36.59
47.7
49.91
54.19
Motor Constant
(Nm / √ Watt)
2.84
3.98
4.15
4.54
4.13
5.39
5.64
6.12
Electrical Constant
(msec)
1.77
3.48
3.79
4.53
2.54
4.31
4.72
5.57
Mechanical Constant
(msec)
33.69
17.11
15.72
13.17
21.16
12.44
11.37
9.64
DPP700 CAD