PRO-Ax0V80A-SA-CAN: ElectroCraft PRO Series Drives
Technology: Brushless Digital Servo Drive
Quadrants: 4
Continuous Output: 10A and 20A
Communications: CAN Bus

Compact. Intelligent.
The ElectroCraft PRO Series Programmable Servo Drives are based on the latest in digital drive technology, offering a cost effective, compact and modular solution for the control of rotary or linear brushless, stepper or PMDC brush motors. The ElectroCraft PRO Series drives integrate advanced motion control functionality in a compact stand-alone drive with pluggable connectors.
With a comprehensive and flexible motion instruction set, the PRO-Ax0V80A-SA-CAN is an intelligent drive that is programmable for a wide variety of applications.
PDF DATASHEET: PRO-Ax0V80-CAN Datasheet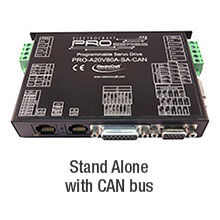 PRO-Ax0V80-CAN Technical Drawings