PRO-A04V36A-CAN: ElectroCraft PRO Series Drives
Technology: Brushless Digital Servo Drive
Quadrants: 4
Continuous Output: 4A
Communications: CAN Bus

Compact. Intelligent.
The ElectroCraft PRO Series Programmable Servo Drives are based on the latest in digital drive technology, offering a cost effective, compact and modular solution for the control of rotary or linear brushless, stepper or PMDC brush motors. The ElectroCraft PRO Series drives integrate advanced motion control functionality in two form factors: PCB Mount (PE models) or built into a stand-alone package with pluggable connectors (SA models).
With a comprehensive and flexible motion instruction set, the PRO-A04V36A-CAN is an intelligent drive that is programmable for a wide variety of applications.
PDF DATASHEET: PRO-A04V36-CAN Datasheet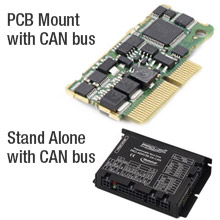 PRO-A04V36-CAN Technical Drawings