The ElectroCraft RapidPower Enhanced series (RPE series) is an innovative, new brushless DC (BLDC) motor design that combines performance, flexibility and affordability, offering original equipment manufacturers (OEMs) the perfect platform for a wide range of motion applications. This level of configurability for BLDCs enables the RPE series to be quickly acquired and adapted into an application, shortening the design cycle for a faster time-to-market.
Cutting edge performance
ElectroCraft's BLDCs integrate rare Earth magnets and an eight-pole encapsulated core design to provide:
High torque density (continuous torque ratings: 0.1 Nm to 2.5 Nm)
Peak torques up to 300% of continuous ratings for short-time operation
Wide speed ranges (continuous rated speeds of 6,000+ RPM)
Low cogging torque provides ultra-smooth motion
Excellent thermal characteristics
Size, efficiency, cost and performance are four factors that guide the selection of a motor. Combining wide speed ranges and high torque density in the RPE series allows users to find a motor that meets the speed/torque requirements of their application while enabling a small form-factor solution.
Flexibility
The selections within the RPE series allow for unprecedented configurability with three popular frame sizes: 42 mm (NEMA17), 60 mm (NEMA23) and 85 mm (NEMA34); each with multiple stack lengths and either 24VDC or 48VDC windings as standard.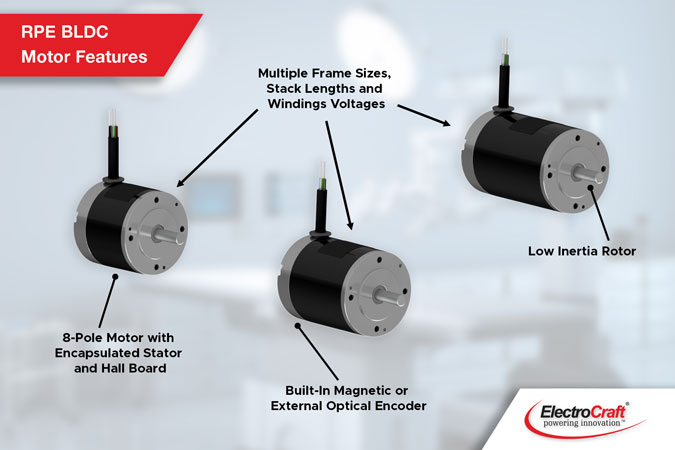 Further configurations include:
Motor only with built-in Hall effect sensors
Motor with integrated magnetic encoder
Motor with external optical encoder
Motor with electromagnetic holding brake
Motor with integrated motor drive (IMD)
Motor with planetary gearbox
Combinations of all the above
Commutation is the process of energizing the stator windings in a certain sequence to generate motion. To provide energy to the correct stator winding, built-in Hall effect sensors are used to monitor the rotor's position. The integrated magnetic encoder provides built-in feedback for precision speed control and simple positioning at an affordable cost, without adding to the overall motor length.
Similar to the magnetic encoder, an external optical encoder can be added to provide higher resolution feedback for high-precision positioning applications. An electromagnetic holding brake grants motor rotor holding capabilities during power-off conditions, preventing manual movement of the motor and stopping a vertically mounted axes from falling.
The IMD provides a built-in servo drive — offering speed, torque and position control using either discrete I/O or built-in CAN bus communications. Motors can also be equipped with a planetary gearbox for increased torque at reduced speed, as shown in Figure 2.
The RPE series is designed for automated manufacturing and assembly, making this series both scalable and affordable for OEMs.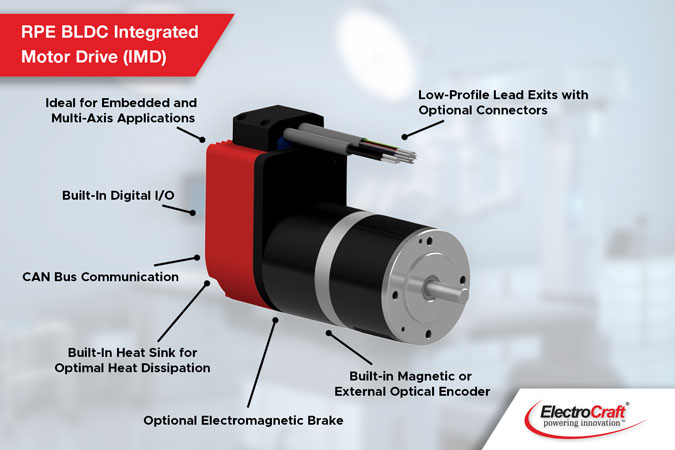 Field success
Examples of medical and laboratory applications include precision pumping systems, medical robots, sample handling systems, diagnostic machines and imaging systems. Medical equipment is highly regulated for safety (e.g., IEC 60601). The RPE 42 mm frame size configured with encoder and integrated motor drive is an ideal solution for embedded fluid or vacuum pumps used in medical and laboratory equipment as they provide a compact size, precise speed control and quiet operation. The same configuration can be used to provide smooth, accurate positioning control of test tube samples in diagnostic machines.
Robotics use cases are generally defined by precise rotational requirements, weight restrictions, speed and torque. These parameters vary based on the application (e.g., arm/joint movement, grippers, mobile robot drivetrains). The RPE 85 mm frame size with an optical encoder, electromagnetic brake and inline planetary gearbox configuration is ideal for battery-powered mobile robot drivetrain applications — delivering high torque at lower speeds to carry heavy loads as well as precise speed and positioning control. The holding brake adds safety during power-off conditions.
Conclusion
The RPE series of BLDC motors is an off-the-shelf, configurable and highly flexible product line. This flexibility comes with the high performance and quality of ElectroCraft BLDC offerings. Customers are not locked into specific architectures with expensive add-ons or in-house designs, ensuring that a motor can be used effectively within an application. Instead, end users can readily select a configurable architecture and quickly integrate it into their equipment. For more information, contact ElectroCraft today.