February 13, 2020
Torque density and speed requirements of a motion control system are often at odds with space constraints. In new system designs, the trend toward miniaturization continues to reduce size, weight and, ultimately, cost. This trend is also driving the need for highly efficient brushless DC (BLDC) motor solutions that can fulfill performance requirements in a much smaller frame size.
ElectroCraft's uniquely designed BLDC motors provide higher torque densities than similar sized motors. They are also capable of being integrated with a planetary gearbox to address speed and torque requirements from the smallest frame motor possible. Simply put, size for size these fractional horsepower BLDC motors outperform the competition.
ElectroCraft utilizes a proprietary multi-pole encapsulated core design and high-performance rare-earth neodymium magnets. These fractional horsepower motors experience peak power and efficiency at lower RPMs while providing significantly higher torque output.
Gearbox integration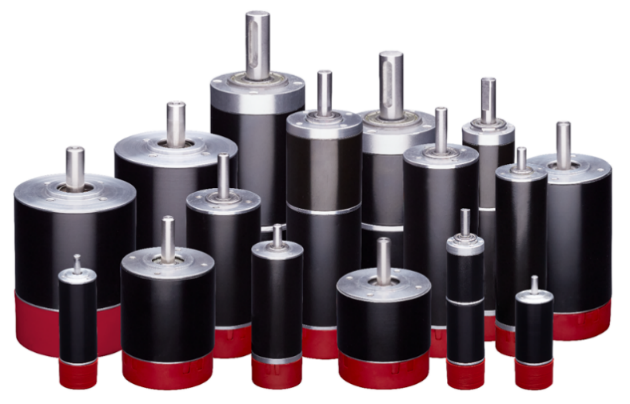 Figure 1. ElectroCraft RapidPower Xtreme BLDC motors and gear motors.
Typical BLDC motors operate at high speeds, which is problematic when attempting to combine with a gearbox. Gearbox input speed limitations prevent many BLDC motors from operating at peak power and efficiency. ElectroCraft solves this problem by providing a BLDC motor with output characteristics that closely match the planetary gearbox specifications.
Addressing size constraints
In embedded applications, motors are often specified by a frame size that refers to the motor's dimensions and not performance characteristics such as torque or horsepower. The frame size is a design constraint as OEMs are typically looking to optimize the performance of the smallest motor possible. This in turn becomes problematic when a fractional horsepower motor is incapable of generating the required torque value.
ElectroCraft's highly dynamic small-frame BLDC motors and associated planetary gear motors address size constraints. They are highly customizable and can be configured to address speed, torque and feedback requirements. They also offer extremely high torque density at a very affordable price and support device miniaturization, thereby eliminating the need for product redesign.
ElectroCraft RPX and LRPX family of small-frame BLDC motors

Figure 2. ElectroCraft RapidPower Xtreme — RPX32 (32 mm frame BLDC motor).
RapidPower Xtreme (RPX) BLDC servo motors are a family of small-frame fractional horsepower motors with exceptional torque per frame size performance. These highly customizable, compact BLDC motors offer a unique multi-pole encapsulated core design with a lightweight internal rotor and five frame sizes (16 mm, 22 mm, 32 mm, 40 mm and 52 mm), each of which are available with 12V, 24V and 48V DC windings, which makes them ideal for embedded applications.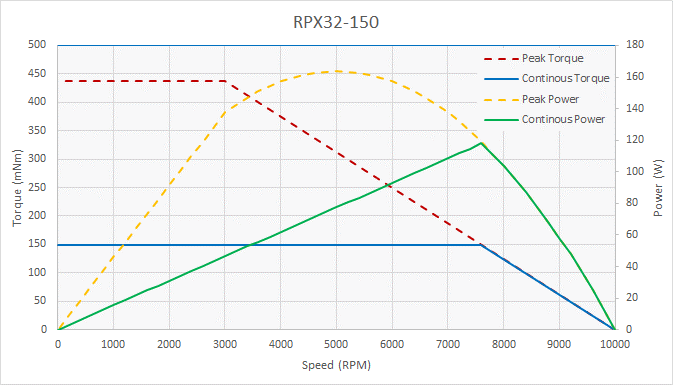 Figure 3. ElectroCraft RPX32-150 BLDC motor performance curves.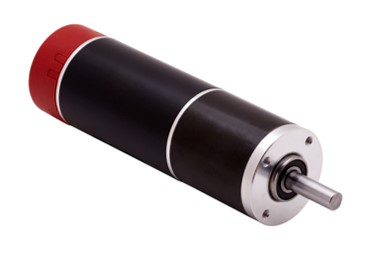 Figure 4. ElectroCraft RapidPower Xtreme — LRPX32 (32 mm frame BLDC gear motor).Low Noise RapidPower Xtreme (LRPX) BLDC planetary gear motors capitalize on the low RPM peak operating efficiency of the RPX series BLDC motor. This allows for optimum performance when coupled to a planetary gearbox. These motors preserve the small form factor of the integrated motor as the gearbox simply extends the length of the package. The LRPX BLDC planetary gear motors provide the highest torque possible from each frame size. They also offer low power consumption and peak performance at low RPM for quiet operation.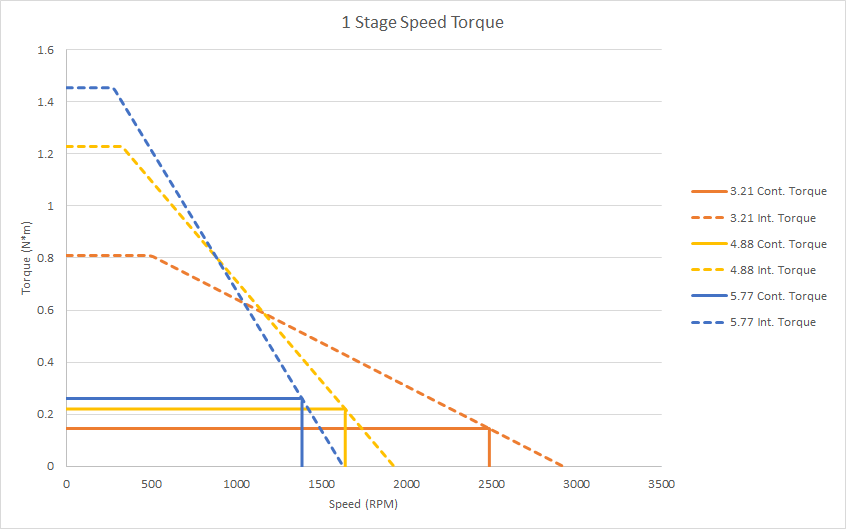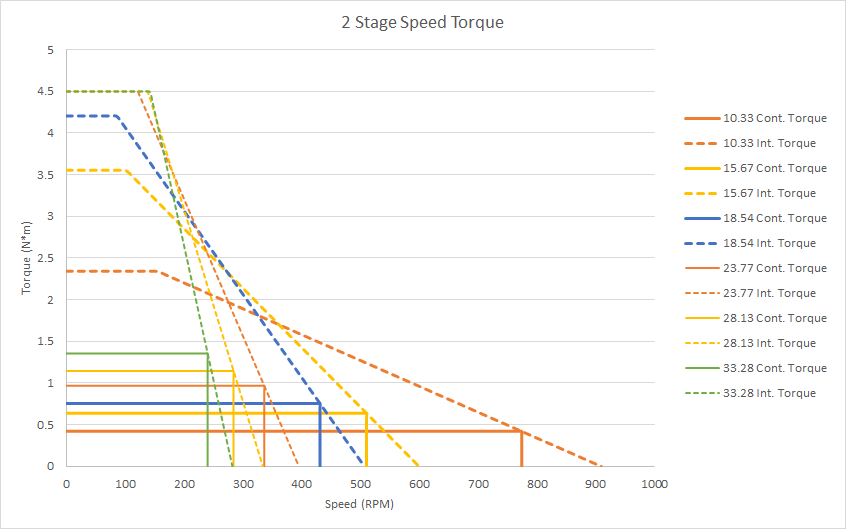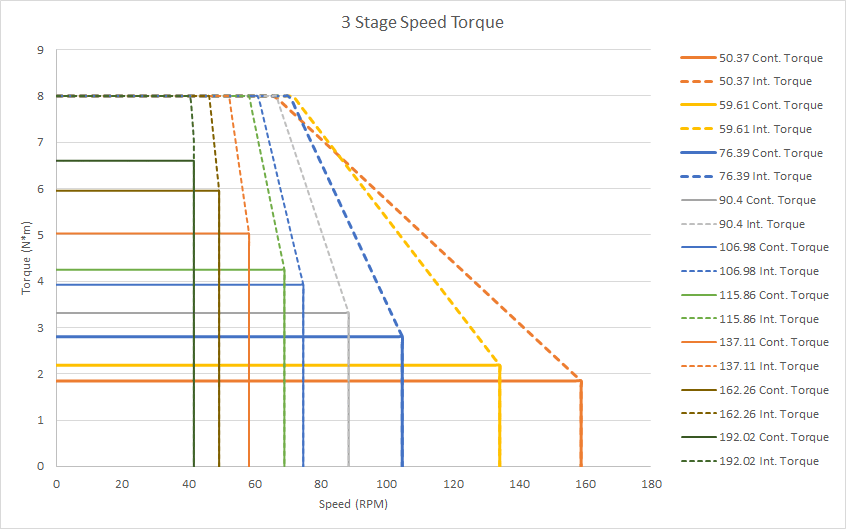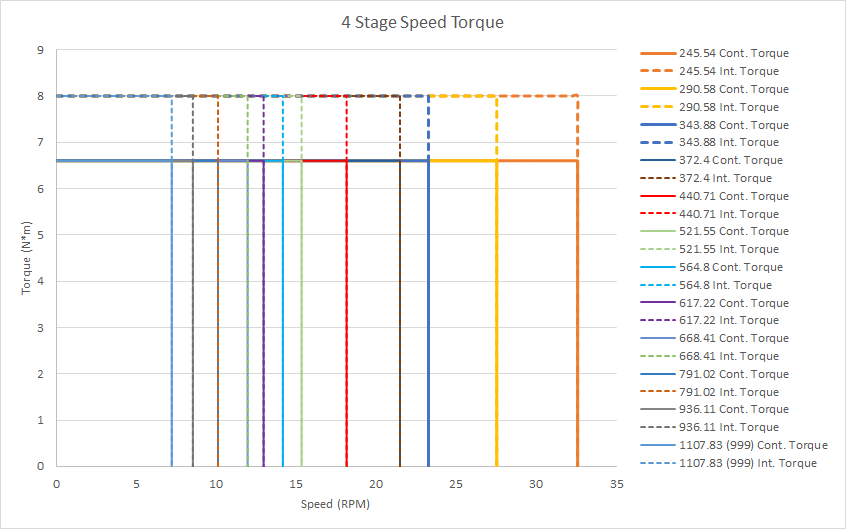 Figure 5. ElectroCraft LRPX32 gear motor performance curves.
Embedded application use-cases
An automotive industry customer with a power seat application used the RPX series BLDC motor to fit inside of a seat frame. The application required high torque at high speeds normally available only in larger frame motors. The RPX32 with a 32 mm diameter frame was small enough to fit within the application and provided the required 175 m-Nm of continuous torque at 11,000 RPM, while also generating low heat and low noise.
Similarly, a customer in the oil and gas industry was building a pipeline inspection robot. They were looking for very high torque and ultra-smooth motion at extremely slow speeds in a very small footprint. The ElectroCraft LRPX40 (40 mm BLDC gear motor) delivered up to 22.5 Nm of peak torque with a speed range of 2 RPM up to 65 RPM, providing the slow, smooth and powerful motion required for this application.
Conclusion
ElectroCraft offers OEMs an attractive alternative to inflexible off-the-shelf products. Their highly customizable RPX family of small-frame BLDC motors and LRPX family of BLDC planetary gear motors address space constraints and performance criteria, eliminating the need for part redesign and expediting time to market. Collectively, these motors provide for best-in-class speed-torque profiles to support numerous embedded motion control applications.
To learn-more about their small-frame fractional horsepower motors and gear motors, contact ElectroCraft and find out how they can develop a custom solution that meets an application's exact requirements.