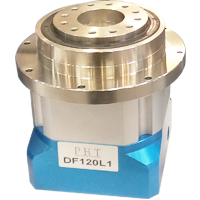 Rotating Output Flange Gearboxes

The output flange allows machine elements such as pinion gears, pulleys, rotary index tables, and transmission shafting to be easily connected directly to the output. These are ideal for motion control applications that require gearboxes to redirect the power flow.
The input flange is adaptable to be compatible to any servo, stepper, brushless, AC or DC motor. The design also provides high torsional rigidity to improve machine performance.
Low backlash
High output torque
High efficiency (97%)
Low noise
Any mounting position
Easy motor mounting
DF Series
The DF series is a flange output planetary gearbox that offers advantages in space performance.
DF090 Flange Gearbox

Output 168-564 Nm
One Stage ≤ 5 arc min
Two Stage ≤ 8 arc min
Noise 64-65 dB
Life Time 20,000 hrs
Size 90

View Datasheet

DF120 Flange Gearbox

Output 260-918 Nm
One Stage ≤ 5 arc min
Two Stage ≤ 8 arc min
Noise 64-65 dB
Life Time 20,000 hrs
Size 120

View Datasheet

DF150 Flange Gearbox

Output 476-1680 Nm
One Stage ≤ 5 arc min
Two Stage ≤ 8 arc min
Noise 64-65 dB
Life Time 20,000 hrs
Size 150

View Datasheet