SCA-SS-70 Drives
CompletePower™ Series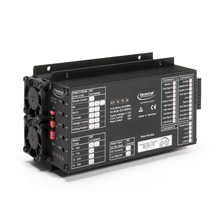 Summary Details
Technology: PMDC Servo
Quadrants: 4
Nominal Current: 10A or 30A
For Brush-Commutated PMDC Motors. Up to 2100 W.
This PWM four-quadrant PMDC servo amplifier is fully enclosed in a rugged aluminum case which can be panel mounted for easy integration. The drive can be configured in a variety of torque and speed control modes with the mode of operation being set by simple DIP switches. The drive handles continuous currents up to 30 Amps and provides a peak current of 60 Amps. The drive is protected against over-current, over-temperature, motor short-circuit and incorporates state of the art MOSFET technology for maximum efficiency. Connectivity is achieved with simple screw-terminals for control/feedback inputs, supply power and motor connections.

Additional Product Details
SCA-SS-70 Technical Drawings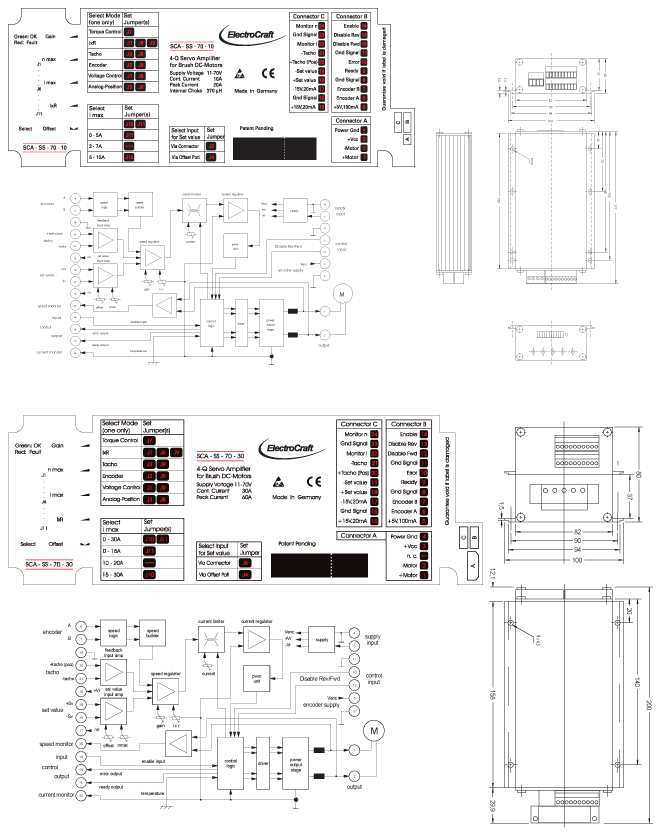 SCA-SS-70 Specifications
Model Numbers
Power Supply Voltage
(VDC)
Aux Voltage
(VDC)
Continuous Current
(Amps)
Peak Current
(Amps)
Max Power
(Watts)
Frequency of
Power Output Stage
(kHz)
Efficiency
(%)
SCA-SS-70-10
11 - 70
5 - 24
10
20
700 with heatsink
49
95
SCA-SS-70-30
11 - 70
5 - 24
30
60
1200 with heatsink
49
95
Control Inputs
Set Value
-10 to +10 VDC
Encoder input signals
channel A,B / TTL / max 100 kHz
Tach (VDC)
±50V
Enable
8 to 30
Fwd/Rev
8 to 30
Brake
8 to 30
Disable Rev
8 to 30
Disable Fwd
8 to 30
Outputs
Auxillary Voltage Sources
5V/100mA
Auxillary Voltage Sources
15 VDC/20mA
Monitor I
0.25V/.16A
Monitor n
10VDC/nmax
Error
open collector max 30VDC
Display
LEDs
green = power / red = fault
Potentiometers
Function of Potentiometers
offset / nmax / gain / IxR / Imax
Mechanical Specs
Dimensions (L x W x H) inches / (mm)
SCA-SS-70-10: 7.09 x 3.94 x 1.57 / (180) x (100) x (40)
SCA-SS-70-30: 7.87 x 3.94 x 3.15 / (200) x (100) x (80)
Mounting Hole Distance (mm)
120 X 90
Weight in ounces / (grams)
4.23 (120)
Operating Temperature (°C)
-10 to +45
Storage Temperature (°C)
-40 to +85
Humidity Range Not Condensing (% rH)
20% to 80% Relative, Non-condensing
Operation Mode
Operation Mode
speed-control by Voltage
speed-control by DC-tach
speed-control by encoder
torque control
IxR-compensation
analog positioning
SCA-SS-70 Accessories
Photo
Model Number
Description
User Manual
Technical Drawing
ASO-BM-70-30
Breaking module in a rugged aluminum case.
Consult Factory
Download PDF
ASX-RM-01-01
Aluminum DIN Rail Mounting Kit with L-shaped bracket for units:
- SCA-Lx
- SCA-Sx
- SCA-B4-70-10
- not used for SCA-SS-70-30
Consult Factory
Download PDF
IA210x
Choke module optimized for brushless drives.
Inductance: IA2100 = 2x50uH; IA2101 = 2x100uH
Nominal current: 10A
Consult Factory
Download PDF
SCA-SS-70 User Manuals
SCA-SS-70 Software Download
Software Type
Overview
CompletePower Plus™ Setup Utility Software
Description
ElectroCraft CompletePower™ Plus Set-up Utility is a Windows-based program used for the setup, parameterization, system diagnostics and motion control management of the ElectroCraft CompletePower Plus line of digital servo drives. The ElectroCraft CompletePower™ Plus Set-Up Utility will lead the user through a Step-by-Step Wizard to create the correct configuration information required for the user to run a particular motor with a particular drive. The result will be an "Application" file containing all of the information required to run the motor with the drive.

System Requirements
Computer ElectroCraft CompletePower™ Plus can be installed on any IBM™ PC compatible computer running:
• Windows 95/98
• Windows NT 4
• Windows 2000
• Windows XP

Display
A VGA display is required. A color monitor display makes it possible to take full advantage of ElectroCraft CompletePower™ Plus's graphic interface. The recommended screen resolution is 1024 x 728. A resolution of 800 x 600 will also function properly.

Printer
The ElectroCraft CompletePower™ Plus Set-up Utility uses the default printer installed on your computer. For optimal resolution, especially when printing graphs, use a high resolution (300-dpi) laser or ink jet printer.

Mouse
A mouse or other pointing device is required to use ElectroCraft CompletePower™ Plus Set-up Utility.

Serial I/O
The ElectroCraft CompletePower™ Plus Set-up Utility can be configured to use the PC's serial port for communication between the host PC and an ElectroCraft drive. A RS-232 serial cable is required between the host PC and the drive.

Download Disclaimer
Software download and registration require Internet Explorer 7 and above, Firefox 3, or Safari.





Download Disclaimer
Software download and registration require Internet Explorer 7 and above, Firefox 3, or Safari.
ElectroCraft Rapid Delivery Program
Some versions of this product are available via ElectroCraft's Rapid Delivery Program. Lead times for these products are given in working days and stated below. Please note, these lead times may be exceeded during holiday periods or due to unforeseen circumstances. Always contact your local ElectroCraft representative for confirmation of availability.
Rapid delivery products are stocked in locations all over the World. If the product you require is not stocked in your region, you may request accelerated delivery from other areas. Please consult your local representative for more information.
Customers are responsible for all freight charges.
Rapid Delivery to:
Select the region where the product would be delivered to.
The Americas
Part Number
Description
Typical Lead Time
No products available
Europe, the Middle East and Africa
| Part Number | Description | Typical Lead Time |
| --- | --- | --- |
| SCA-SS-70-10 | SCA-SS, 4-Quad. PWM +Enc., 11-70VDC, 10A Nom. Cur, 700w Max. | 2 days |
Asia
Part Number
Description
Typical Lead Time
No products available