SA45 Drives
CompletePower™ Series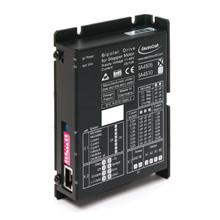 Summary Details
Technology: Bipolar Stepper Drive
Nominal Current: 5A and 10A
For Stepper Motors. Up to 500W.
This bipolar stepper drive provides microstepping to 1/16 resolution built into a fully enclosed rugged aluminum case. It can be DIN-rail mounted or panel mounted for fast integration. The mode of operation is set by simple DIP switches. Features include an internal oscillator that allows operation of the drive at an internal speed set-point or with an external analog speed reference that can scale this set-point. Both the 5A and the 10A versions of this drive can be powered by the same range of voltage supplies. This drive is protected against over-current, over-temperature and incorporates the state of the art dual full bridge MOSFET driver for maximum efficiency. Connectivity is tool-free with RJ45-CAT5 plugs for the control inputs and push-type terminals for power. The optically isolated control circuit can be powered with an internal 5V supply on the drive for TTL step and direction compatibility or supply an auxiliary voltage supply for up to 24V logic step and direction.

Additional Product Details
SA45 Technical Drawings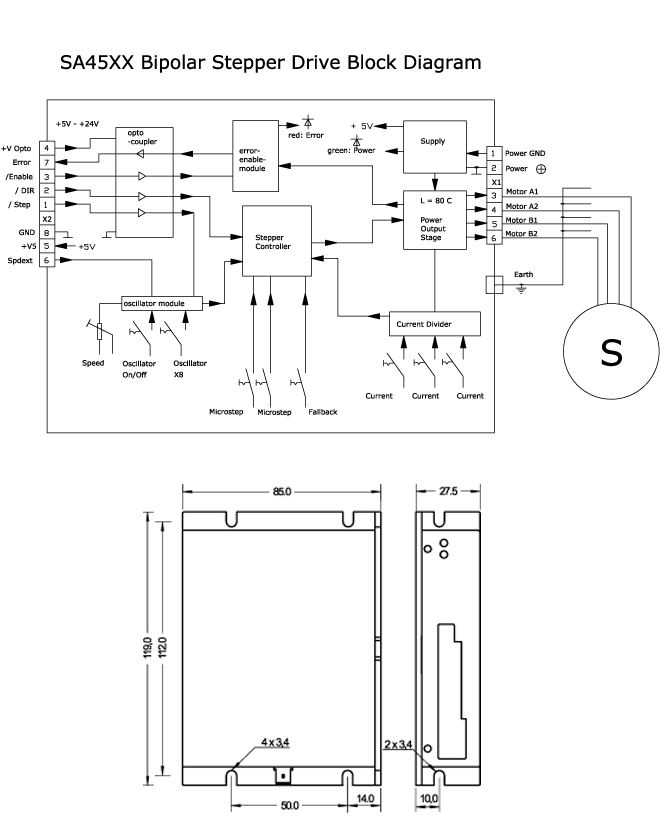 SA45 Specifications
Model Numbers
Power Supply Voltage
(VDC)
Aux Voltage
(VDC)
Nominal Current
(Amps)
Max Power
(Watts)
Fixed Off Time of
Power Output Stage
(µs)
Efficiency
(%)
SA4505
11 - 48
5 - 24
5
250 with heatsink
20
95
SA4510
11 - 48
5 - 24
10
500 with heatsink
20
95
Control Inputs
Opticaly Isolated Control Inputs
Enable
Active Low, Ri = 1 kOhm, 5mA max, 5V TTL Compatible
Dir
Ri = 1 kohm, 5mA max, 5V TTL Compatible
Step
Ri = 1 kohm, 5mA max, 5V TTL Compatible
SpdExt
0-5 VDC, Ri = 100 kohms
Features Selected by Dip Switches
Microstepping
1/1; 1/2; 1/4; 1/16
Current
.5 - 5A / 1 - 10A
Fallback
Current at standstill is reduced to 60%
Internal Oscillator
1.5Hz to 1.2 kHz
Oscillator x 8
1.2 Hz to 9.6 kHz
Outputs
Auxillary Voltage Sources
5 VDC, 50 mA max
Error
Optical 10 mA max
Display
LEDs
green = power / red = error
Potentiometers
Function of Potentiometers
Speed
Mechanical Specs
Dimensions (L x W x H) inches / (mm)
(119) X (85) X (27.5)
Mounting Hole Distance (mm)
112 X 50
Weight in ounces / (grams)
(220)
Operating Temperature (°C)
-10 to +45
Storage Temperature (°C)
-40 to +85
Humidity Range Not Condensing (% rH)
20% to 80% Relative, Non-condensing
Operation Mode
Operation Mode
fullstep 1/1
halfstep 1/2
microstep 1/4
microstep 1/16
SA45 Accessories
Photo
Model Number
Description
User Manual
Technical Drawing
HA3008
Passive heatsink optimized for SA45, EA27, EA47 and DA47 drives.
Consult Factory
Download PDF
HA3018
One fan heatsink optimized for SA45, EA27, EA47 and DA47 drives. Fan is 1 x 24VDC, .8W.
Consult Factory
Download PDF
HA3028
Two fan heatsink optimized for SA45, EA27, EA47 and DA47 drives. Fans are 2 x 24VDC, .8W.
Consult Factory
Download PDF
WA2509
Break Out Board for DA, EA and SA-Series.
Consult Factory
Download PDF
CAxxxx
RoHS-compliant CAT5E FTP-Patch-Cable with RJ45 connectors at both ends.

Styles available:
- Red 50cm [model: CA2005]
- Red 100cm [model: CA2010]
- Red 200cm [model: CA2020]
- Red 300cm [model: CA2030]
- Yellow 50cm [model: CA4005]
- Yellow 100cm [model: CA4010]
- Yellow 200cm [model: CA4020]
- Yellow 300cm [model: CA4030]
- Gray 50cm [model: CA8005]
- Gray 100cm [model: CA8010]
- Gray 200cm [model: CA8020]
- Gray 300cm [model: CA8030]
Consult Factory
Download PDF
MA0025
DIN Rail Mounting Kit for units: DA, EA, and SA-Series.
Consult Factory
Download PDF
IA210x
Choke module optimized for brushless drives.
Inductance: IA2100 = 2x50uH; IA2101 = 2x100uH
Nominal current: 10A
Consult Factory
Download PDF
ElectroCraft Rapid Delivery Program
Some versions of this product are available via ElectroCraft's Rapid Delivery Program. Lead times for these products are given in working days and stated below. Please note, these lead times may be exceeded during holiday periods or due to unforeseen circumstances. Always contact your local ElectroCraft representative for confirmation of availability.
Rapid delivery products are stocked in locations all over the World. If the product you require is not stocked in your region, you may request accelerated delivery from other areas. Please consult your local representative for more information.
Customers are responsible for all freight charges.
Rapid Delivery to:
Select the region where the product would be delivered to.
| Part Number | Description | Add to Cart |
| --- | --- | --- |
| SA4505 | Bi-polar stepper motor drive, 11-48 VDC, 5A, Full, Half and Micro-stepping operation modes | Buy Now |
| SA4510 | Bi-polar stepper motor drive, 11-48 VDC, 10A, Full, Half and Micro-stepping operation modes | Buy Now |
Europe, the Middle East and Africa
| Part Number | Description | Typical Lead Time |
| --- | --- | --- |
| SA4505 | Bi-polar stepper motor drive, 11-48 VDC, 5A, Full, Half and Micro-stepping operation modes | 2 days |
| SA4510 | Bi-polar stepper motor drive, 11-48 VDC, 10A, Full, Half and Micro-stepping operation modes | 2 days |
Asia
| Part Number | Description | Typical Lead Time |
| --- | --- | --- |
| SA4505 | Bi-polar stepper motor drive, 11-48 VDC, 5A, Full, Half and Micro-stepping operation modes | 2 days |
| SA4510 | Bi-polar stepper motor drive, 11-48 VDC, 10A, Full, Half and Micro-stepping operation modes | 2 days |