TPP34 : ElectroCraft TorquePower™ Plus Stepper Motor


Size: Nema 34, 1.8°
Holding Torque: up to 1190 oz-in or 840 Ncm
Speed: up to 35 RPS
Compact. Force.
This bi-directional, 1.8° size 34 hybrid DC stepping motor provides a lot of torque in a relatively small size. The TPP34 has holding torque up to 1190 oz-in with a step angle accuracy of ±3%.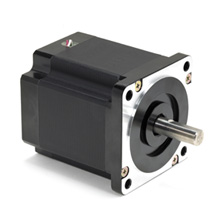 TPP34 Outline Drawing
TPP34 & TPP34M Frame Size Drawing Key
MOTOR TYPE
LENGTH
(INCHES)
LENGTH
(MM)
IMPERIAL
METRIC
TPP34-396
TPP34M-280
2.60 ±.04
66.0 ±1.0
TPP34-793
TPP34M-560
3.78 ±.04
96.0 ±.1.0
TPP34-1190
TPP34M-840
4.96 ±.04
126.0 ±.1.0