DPP640 : ElectroCraft DirectPower™ Plus Brush Motor


Size: 3.25-inch or 82.5mm
Peak Torque: to 240 oz-in or 169 Ncm
High-Torque. Long life.
Our ElectroCraft DirectPowerTM Plus 640 Series features a rugged, heavy-gauge steel housing construction for long-life and durability. This high-efficiency motor includes dynamically balanced armatures, sealed ball bearings, and replaceable brushes.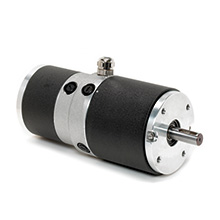 DPP640 Outline Drawing