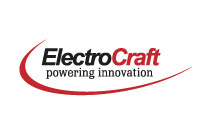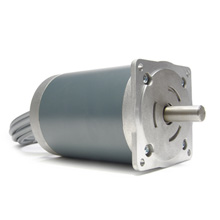 TP34 : TorquePower™ Stepper Motor


Size: Nema 34, 1.8°
Holding Torque: up to 620 oz-in or 438 Ncm
Speed: up to 34 RPS
Forceful. Extra-sturdy.
This 1.8° size 34 hybrid DC stepping motor is built with an extra-sturdy casing for when you need medium-sized, powerful torque with a little more durability. The motor is totally enclosed with permanently lubricated ball bearings. The bi-directional size 34 has a step angle accuracy of ±3%.

TP34 Outline Drawing
TP34 Frame Size Drawing Key
MOTOR TYPE
LENGTH
(INCHES)
BIPOLAR
UNIPOLAR
TP34-235
TP34-188
2.45 ±.03
TP34-420
TP34-336
3.70 ±.03
TP34-620
TP34-496
5.08 ±.03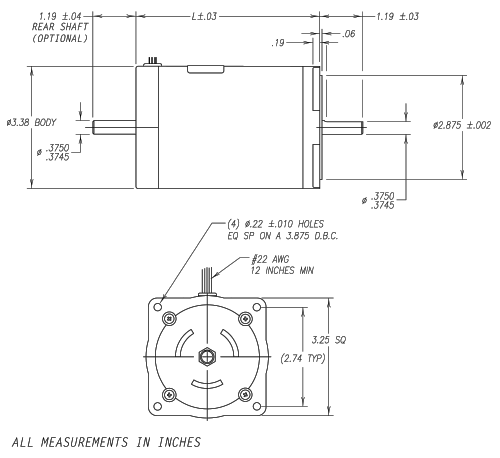 TP34 Speed / Torque Curves
BIPOLAR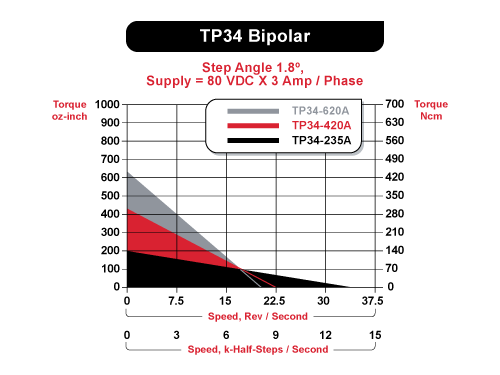 UNIPOLAR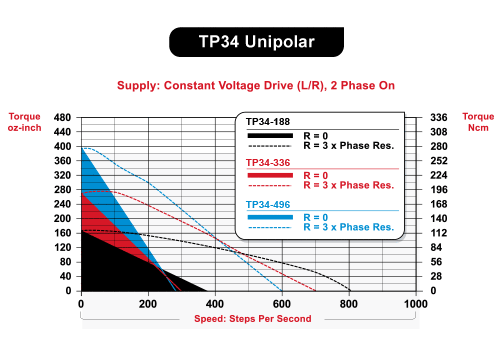 TP34 Mechanical / Winding Data
TP34 Bi-Polar Stack Size
Imperial Models
TP34-235
TP34-420
TP34-620
Holding Torque
Bi-Polar
(oz-in)
235.0
420.0
620.0
Holding Torque Bi-Polar
(Ncm)
166
297
438
Length
(inches)
2.45
3.70
5.08
Length
(cm)
6.2
9.4
12.9
Width
(inches)
3.3
3.3
3.3
Width
(cm)
8.4
8.4
8.4
Weight
(oz)
48.0
80.0
121.0
Weight
(Kg)
1.4
2.3
3.4
Step Angle
(°/step)
1.8
1.8
1.8
Number Leads
4
4
4
TP34 Uni-Polar Stack Size
Imperial Models
TP34-235
TP34-420
TP34-620
Holding Torque
Uni-Polar
(oz-in)
188.0
336.0
496.0
Holding Torque Uni-Polar
(Ncm)
133
237
350
Length
(inches)
2.45
3.70
5.08
Length
(cm)
6.2
9.4
12.9
Width
(inches)
3.3
3.3
3.3
Width
(cm)
8.4
8.4
8.4
Weight
(oz)
48.0
80.0
121.0
Weight
(Kg)
1.4
2.3
3.4
Step Angle
(°/step)
1.8
1.8
1.8
Number Leads
6
6
6
TP34 Bi-Polar Windings
Imperial Models
235A20
235A30
235A40
235A60
420A20
420A30
420A40
420A60
620A20
620A30
620A40
620A60
Current
(A/Phase)
2.0
3.0
4.0
6.0
2.0
3.0
4.0
6.0
2.0
3.0
4.0
6.0
Voltage
(V/Phase)
4.4
2.9
2.2
1.5
6.0
4.0
3.0
2.0
7.7
5.1
3.8
2.6
Resistance
(R/Phase)
2.2
1.0
0.6
0.2
3.0
1.3
0.8
0.8
3.8
1.7
1.0
0.4
Inductance
(mH)
20.4
9.1
5.1
2.3
33.2
14.8
8.3
8.3
54.5
24.2
13.6
6.1
TP34 Uni-Polar Windings
Imperial Models
235V26
235V53
235V120
235V240
420V25
420V30
420V60
420V120
420V240
620V22
620V43
620V120
620V240
Current
Uni-Polar
(A/Phase)
3.1
1.6
0.7
0.3
4.5
4.0
2.0
1.0
0.6
7.1
3.6
1.2
0.6
Voltage
Uni-Polar
(V/Phase)
2.6
5.3
12.0
24.0
2.5
3.0
6.0
12.0
24.0
2.2
4.3
12.0
24.0
Resistance
Uni-Polar
(R/Phase)
0.9
3.3
18.0
72.0
0.6
0.8
3.0
11.5
44.0
0.3
1.2
10.3
41.0
Inductance
Uni-Polar
(mH)
4.2
17.5
80.0
315.0
2.8
3.6
16.5
64.2
237.0
1.8
7.7
60.0
249.0
Current
Bi-Polar
(A/Phase)
2.2
1.1
0.5
0.2
3.2
2.8
1.4
0.7
0.4
5.0
2.5
0.8
0.4
Voltage
Bi-Polar
(V/Phase)
3.7
7.5
17.0
34.0
3.5
4.2
8.5
17.0
34.0
3.1
6.1
17.0
34.0
Resistance
Bi-Polar
(R/Phase)
1.7
6.6
36.0
144.0
1.1
1.5
6.0
23.0
88.0
0.6
2.4
20.6
82.0
Inductance
Bi-Polar
(mH)
16.6
70.0
320.0
1260.0
11.0
14.4
65.8
256.8
948.0
7.2
30.6
240.0
996.0