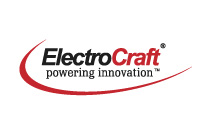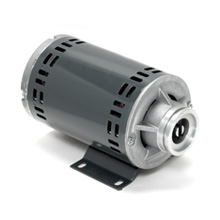 SPP37T : SolidPower™ Plus Housed AC Motor


AC Type: Three Phase
Size: 3.7 inches
Power: to .3 HP
Larger-size. Three-Phase.
These 3.74 inch diameter motors (3.86 inch diameter over weld seam) are designed for continuous duty in a 40°C ambient temperature. At nominal 1650 or 3450 rpm, ratings range from 1/50 to 1/3 HP (Contact your area sales representative for intermittent ratings, higher ambient, or TENV construction).

SPP37T Speed / Torque Curves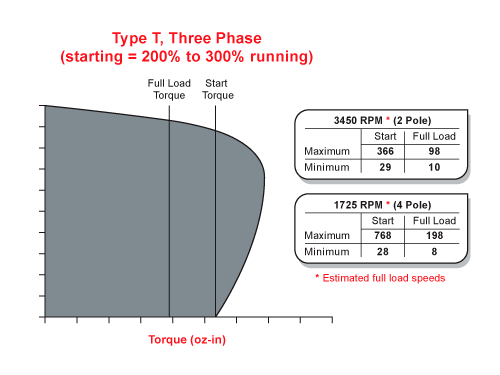 SPP37T Mechanical / Winding Data
Model Number
Poles
Volts (Vac)
/
Frequency (Hz)
Rated HP
Rated
Current
(Amps)
Rated
Power
(Watts)
Rated
Speed
(RPM)
Rated
Torque
(oz-in)
Max
Torque
(oz-in)
Starting
Current
(Amps)
Starting
Torque
(oz-in)
Performance Designator
(See Outline Drawing)
Capacitor
Mfd./Vac
SPP37T - 6V4B1
4
230 / 60
1/6
0.7
168
1725
99.0
397.0
3.5
351.0
N
- / -
SPP37T - 8V4B1
4
230 / 60
1/8
0.6
136
1720
74.0
267.0
2.9
237.0
M
- / -
SPP37T - 10V4B1
4
230 / 60
1/10
0.4
109
1710
58.9
237.0
2.3
224.0
L
- / -
SPP37T - 12V4B1
4
230 / 60
1/12
0.4
97
1715
49.3
204.0
2.1
191.0
K
- / -
SPP37T - 15V4B1
4
230 / 60
1/15
0.3
76
1710
39.4
166.0
1.6
155.0
J
- / -
SPP37T - 20V4B1
4
230 / 60
1/20
0.3
61
1710
29.5
121.0
1.2
112.0
H
- / -
SPP37T - 25V4B1
4
230 / 60
1/25
0.2
53
1715
23.6
96.0
1.0
88.0
H
- / -
SPP37T - 30V4B1
4
230 / 60
1/30
0.2
44
1710
19.6
82.0
0.9
75.0
G
- / -
SPP37T - 40V4B1
4
230 / 60
1/40
0.2
36
1710
14.7
60.0
0.7
55.0
F
- / -
SPP37T - 50V4B1
4
230 / 60
1/50
0.1
30
1705
11.8
50.0
0.5
46.0
F
- / -
SPP37T - 3V2B1
2
230 / 60
1/3
0.9
326
3400
99.6
269.0
5.0
224.0
M
- / -
SPP37T - 4V2B1
2
230 / 60
1/4
0.6
244
3420
73.7
276.0
3.7
258.2
M
- / -
SPP37T - 5V2B1
2
230 / 60
1/5
0.5
199
3405
59.1
196.0
2.5
180.3
L
- / -
SPP37T - 6V2B1
2
230 / 60
1/6
0.5
165
3415
48.9
175.0
2.1
166.8
K
- / -
SPP37T - 8V2B1
2
230 / 60
1/8
0.4
128
3420
36.5
127.0
1.3
122.5
J
- / -
SPP37T - 10V2B1
2
230 / 60
1/10
0.4
108
3420
29.5
96.0
1.1
92.5
H
- / -
SPP37T - 12V2B1
2
230 / 60
1/12
0.3
90
3425
24.7
85.0
0.7
85.6
H
- / -
SPP37T - 15V2B1
2
230 / 60
1/15
0.3
77
3425
19.7
64.0
0.5
64.5
G
- / -
SPP37T Outline Drawing