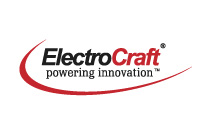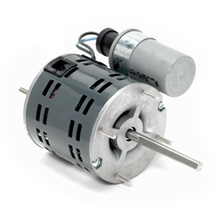 SPP33P : SolidPower™ Plus Housed AC Motor


AC Type: Permanent Split Capacitor
Size: 3.3 inches
Power: to .25 HP
Mid-size. Permanent Split Capacitor.
These 3.31 inch diameter motors (3.42 inch diameter over weld seam) are designed for continuous duty in a 40°C ambient temperature. At nominal 1650 or 3450 rpm, ratings range from 1/60 to 1/4 HP (Contact your area sales representative for intermittent ratings, higher ambient, or TENV construction).

SPP33P Speed / Torque Curves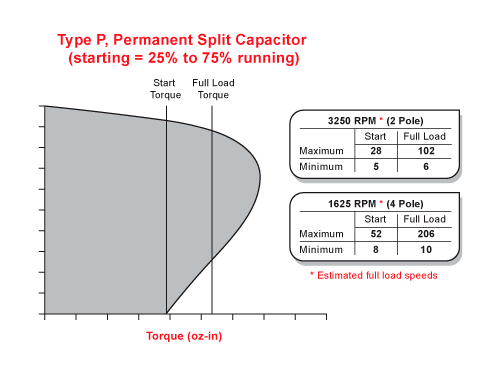 SPP33P Mechanical / Winding Data
Model Number
Poles
Volts (Vac)
/
Frequency (Hz)
Rated HP
Rated
Current
(Amps)
Rated
Power
(Watts)
Rated
Speed
(RPM)
Rated
Torque
(oz-in)
Max
Torque
(oz-in)
Starting
Current
(Amps)
Starting
Torque
(oz-in)
Performance Designator
(See Outline Drawing)
Capacitor
Mfd./Vac
SPP33P - 15V2D2
2
220 / 50
1/15
0.8
96
2765
23.8
38.0
1.8
16.0
F
9.0 / 250
SPP33P - 20V2D2
2
220 / 50
1/20
0.8
87
2730
17.8
27.0
1.4
13.0
E
7.0 / 250
SPP33P - 8V2A1
4
115 / 60
1/8
1.4
157
1655
76.0
156.0
3.9
71.0
P
15.0 / 330
SPP33P - 10V2A1
4
115 / 60
1/10
1.3
133
1650
60.0
121.0
3.1
61.0
M
12.0 / 330
SPP33P - 12V2A1
4
115 / 60
1/12
1.3
127
1675
49.0
100.0
3.1
44.0
K
10.0 / 330
SPP33P - 15V2A1
4
115 / 60
1/15
1.3
117
1680
39.0
79.0
2.7
32.0
J
7.5 / 330
SPP33P - 20V2A1
4
115 / 60
1/20
1.0
90
1670
29.0
72.0
2.3
32.0
H
6.0 / 330
SPP33P - 25V2A1
4
115 / 60
1/25
0.9
82
1630
24.0
40.0
1.5
26.0
F
4.0 / 330
SPP33P - 4V2A1
2
115 / 60
1/4
2.3
266
3420
74.0
147.0
9.0
36.0
L
15.0 / 330
SPP33P - 5V2A1
2
115 / 60
1/5
2.1
236
3435
60.0
115.0
7.2
30.0
K
15.0 / 330
SPP33P - 6V2A1
2
115 / 60
1/6
1.9
215
3450
49.0
104.0
6.5
29.0
J
10.0 / 330
SPP33P - 8V2A1
2
115 / 60
1/8
1.8
173
3445
37.0
75.0
5.2
18.0
H
7.5 / 330
SPP33P - 10V2A1
2
115 / 60
1/10
1.3
143
3430
29.0
56.0
3.5
17.0
G
7.5 / 330
SPP33P - 15V2A1
2
115 / 60
1/15
1.0
111
3440
20.0
35.0
2.2
12.0
F
6.0 / 330
SPP33P - 20V2A1
2
115 / 60
1/20
0.9
92
3400
15.0
30.0
2.0
11.0
E
5.0 / 330
SPP33P - 10V2D2
2
220 / 50
1/10
1.2
128
2765
35.2
56.0
2.8
20.0
G
9.0 / 250
SPP33P - 8V2D2
2
220 / 50
1/8
1.5
166
2810
43.8
80.0
4.1
26.0
H
10.0 / 250
SPP33P - 6V2D2
2
220 / 50
1/6
1.8
204
2800
58.8
106.0
5.2
35.0
J
15.0 / 250
SPP33P - 5V2D2
2
220 / 50
1/5
2.2
235
2805
70.8
140.0
6.9
40.0
K
17.5 / 250
SPP33P - 4V2D2
2
220 / 50
1/4
2.4
270
2790
90.0
154.0
7.3
47.0
M
20.0 / 280
SPP33P - 25V4D2
4
220 / 50
1/25
0.5
55
1220
28.2
36.0
0.8
24.0
F
6.0 / 220
SPP33P - 20V4D2
4
220 / 50
1/20
0.6
78
1325
34.8
59.0
1.2
36.0
H
8.0 / 220
SPP33P - 15V4D2
4
220 / 50
1/15
0.8
93
1315
46.8
76.0
1.6
42.0
J
10.0 / 220
SPP33P - 12V4D2
4
220 / 50
1/12
1.0
90
1310
58.8
93.0
1.9
52.0
K
12.0 / 220
SPP33P - 10V4D2
4
220 / 50
1/10
1.1
120
1330
72.0
122.0
2.5
68.0
M
12.5 / 220
SPP33P - 8V4D2
4
220 / 50
1/8
1.5
145
1290
105.6
151.0
3.1
79.0
P
15.0 / 220
SPP33P Outline Drawing