SCP-B1 : ElectroCraft CompletePower™ Drives
Technology: Brushless, Speed Control
Quadrants: 2
Nominal Current: 10A
For BLDC Motors. Up to 475W.
This two-quadrant brushless DC speed control is housed in a compact closed-frame aluminum module which can be panel mounted for easy integration. The drive includes a control enable/disable, direction and set value inputs. The drive is protected against over-current and over-temperature and incorporates state of the art MOSFET technology for maximum efficiency. Connectivity is achieved with simple screw-terminals for control/feedback inputs, supply power and motor connections.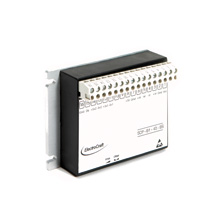 Silver Series - Available only for existing customers
This product is being phased out, and is currently only available to existing ElectroCraft customers.